The show must go on. You are invited to the Virtual Met Gala hosted by the High Fashion Twitter on May 4, 2020.
The MET Gala, iconic night for fashion and the Metropolitan Museum of Art that takes place on the first Monday in May, was postponed indefinitely for the first time in its history due to the coronavirus pandemic. Even though the 2020 Met Gala was postponed indefinitely, the HFTwit community–a vibrant online subculture shared by fashion enthusiasts– has preserved a virtual, unofficial edition of the event.
"Given the anxiety and stress that the Covid-19 outbreak is causing, we believe that continuing to move ahead with the HFTwit Met Gala is the right choice," the HFTwit Met Staff wrote on Twitter. "Hopefully, this event will serve as a little spot of joy and unity for this amazing community."
With only a few days away, FORWARD chatted with Aria Olson, the creator of the HFTwit, over email who gives us a thorough understanding of the event.
About the creator of HF Twit Met Gala.
Aria Olson is 19 years old Aerospace Engineer graduate who will be going into a Master's degree in Industrial Engineering this fall.
"My interest in fashion started in the summer of 2015 via Raf Simons at Dior, but it wasn't until spring 2018 that I began learning about the world of fashion. Spring 2018 was a very dark time for me, and learning about the creations of Lee McQueen and witnessing the fall 2018 collection of Sarah Burton for McQueen at PFW 2018 – the very first fashion week I followed – helped to breathe fresh air into my life. I quickly grew fascinated with fashion, with Thom Browne, Gareth Pugh and Schiaparelli joining McQueen as just a few of my favourite labels. 
I've had no formal fashion education; everything I've learned is self-taught, but the high fashion twitter community taught me a lot. Since I joined high fashion twitter in the spring of 2019, I have been very involved in this vibrant community of creatives, always seeking to learn and expand my knowledge."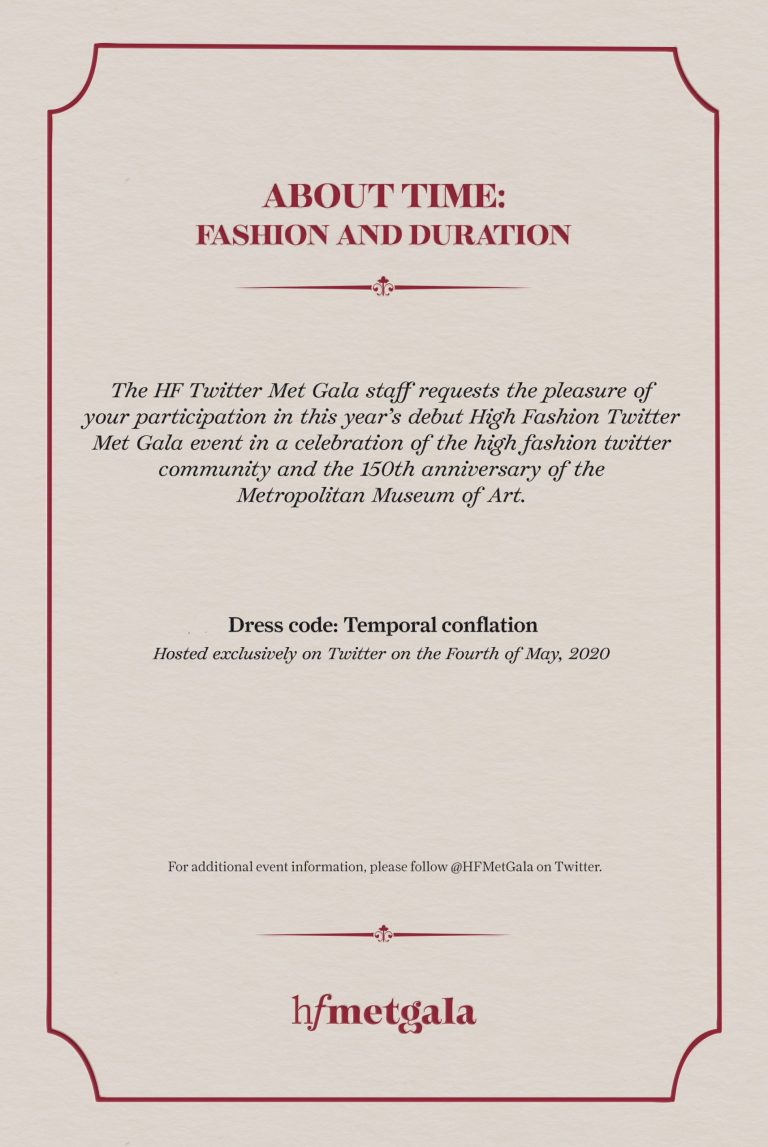 Your current state of mind?
I think I can speak for the team when I say that we are stressed as well as very excited! The response from the online community to the event has been overwhelming; when I first came up with the concept, I thought we would be lucky to get even 200 participants, a number we exceeded within the first 24 hours of this year's announcement. It's certainly been a lot of work and a lot of late nights for the team, but that mostly comes from our desire to push ourselves to make this event as special as possible, especially given how uncertain things are around us in the world.
Tell us more about HF Twit Met Gala.
The HF Twitter Met Gala was really created because of the hf twitter community. The Met Gala is one of the biggest nights in fashion, and it makes sense that fashion devotees would also place a lot of importance on it, and it's one of the times where the entire community comes back online to discuss what's happening. I think I said this in my Nylon interview, but there's a running joke within the hf twitter community that once fashion week is over, we all say goodbye to each other until the next one, and the Met Gala is one of those events that kind of brings everyone back onto our timelines. It's morphed beyond just people commenting on celebrity dresses to a real community bonding event.
Friendships can so quickly start only based on one person's hilarious Met Gala commentary. So when the Met Gala theme was announced last fall, those comments immediately started popping up. I figured that since people want a place to show their own Met Gala styling picks, why not create a Met Gala for high fashion twitter? The interest has been there for years, and it was just a matter of someone picking up the pieces and weaving it into an actual event.
The objectives and visions of its existence:
As outlined in our mission statement, the HF Twitter Met Gala seeks to be a radically inclusive and uplifting space. We won't be doing either best dressed or worst dressed lists; instead, we aspire to be a spark to light a flame of discussion and community. Being able to showcase voices that would otherwise go unheard is what we push and want. Social media has the incredible capability to connect and unite us, potentially pushing for a new industry standard in terms of inclusivity and diversity from the bottom up.
In this time of vast uncertainty and fear, we're also hoping to give back a little bit, not just in terms of sparking a bit of joy and hope but in a more tangible manner as well. We've added a fundraising aspect, somewhat in the spirit of the Met Gala itself being a fundraising event but more in reaction to the current global pandemic and how intensely it is impacting healthcare workers around the globe. We are raising money for the International Medical Corps, asking for participants to make a simple $5 donation directly to IMC and incentivizing this by releasing an exclusive ebook.
The ebook will be filled with information on the event, in-depth analyses of the theme and literature, runway analyses, some best looks from the night and a variety of other information that will be kept exclusive. None of the proceeds will go to us, we're asking only for a screenshot as proof that participants who would like to receive the ebook have donated to IMC. We've gotten several donation screenshots already, and we hope that in our little way, we can help the truly heroic people who are putting their lives at risk to help us.
How to be a part of the HFTwit Met Gala event?
As of this email, there are nearly 1,200 participants signed up for the event. There are five major categories for participation:
1. photoset creation – participants create a mood board, or photo collage of their dream met gala look.
2. brand challenge – similar to the photoset creation category, in this challenge, participants will be randomly assigned to a brand from which they must create their entire look. All photos or items they choose to include in their mood board/photo collage must be from that brand.
3. wardrobe styling – participants use garments that they have in their closets, or have physically created, to design their met gala look
4. illustration expression – participants create illustrations in any medium to communicate their dream met gala look
5. open creativity – any form of creativity that has not been covered in the previous categories fits here.
In the spirit of inclusivity, we will never make a worst dressed list. We will be highlighting some of our favourite looks of the night, pulling from the response of the community, as well as our personal opinions as a team within our ebook.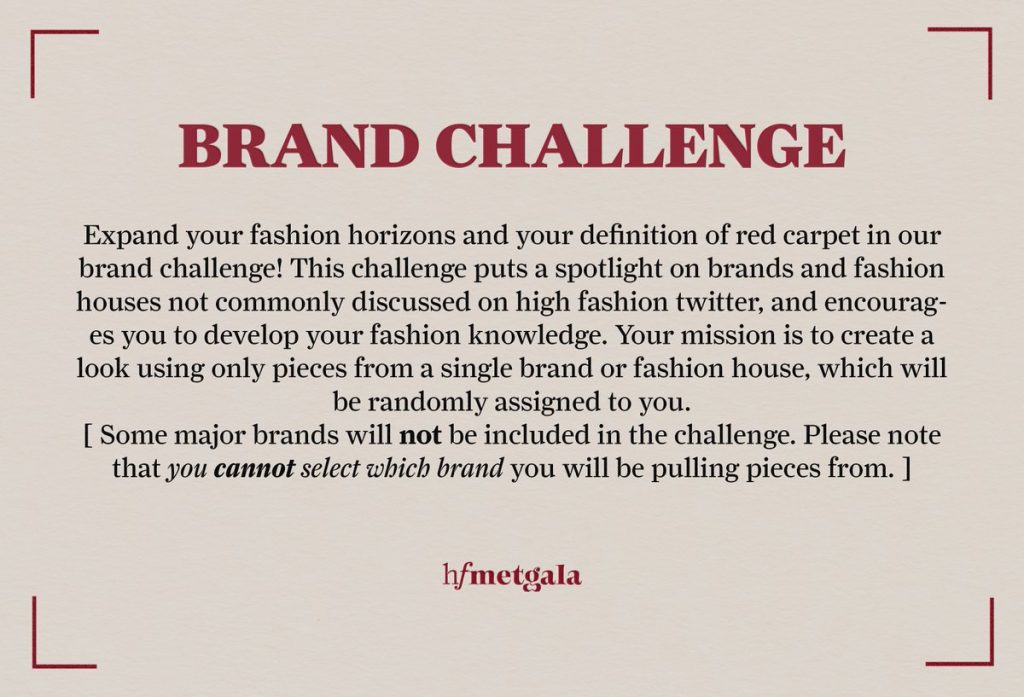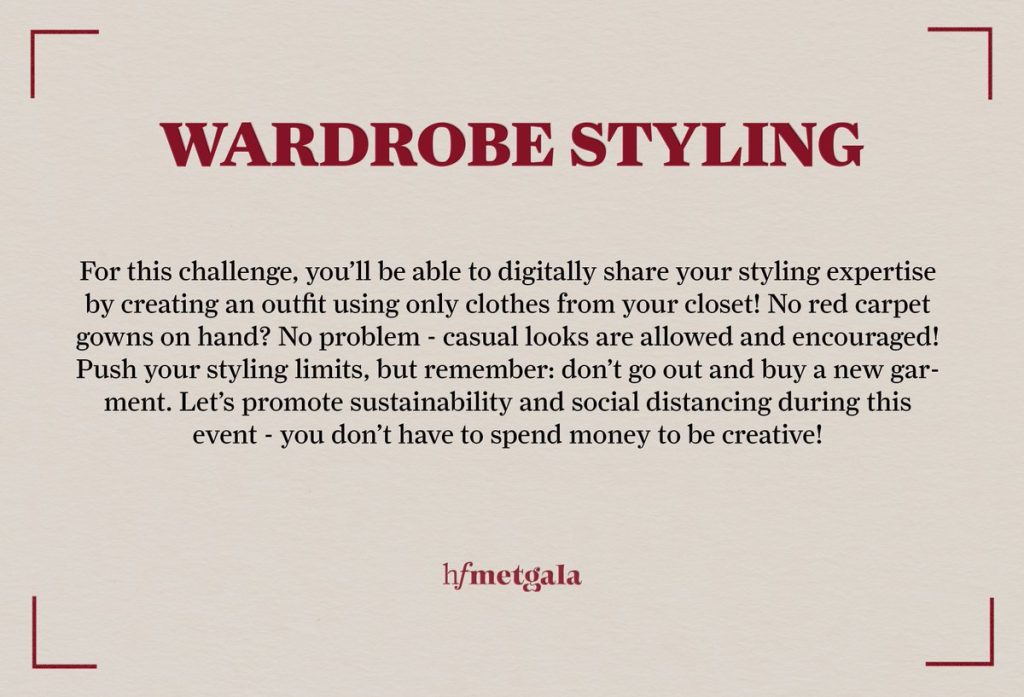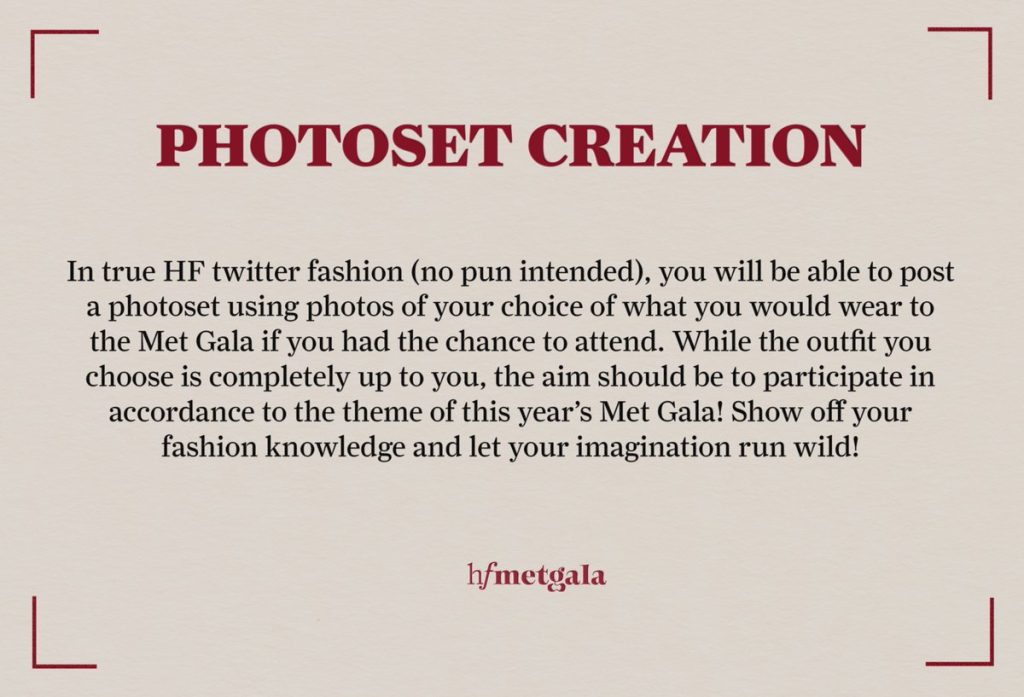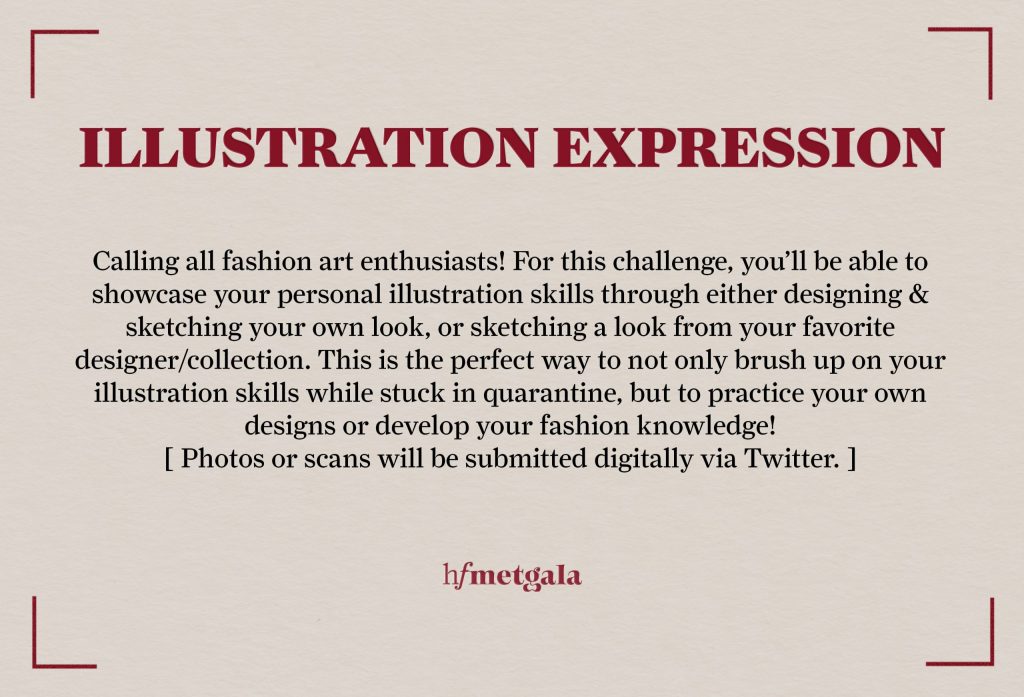 What are the associated challenges to bring the virtual Met Gala to life?
This is the very first year of HFTMG, and to see such support for our inaugural event has been incredible! I came up with the idea in November and immediately knew I wanted to put together a team to help me. From close to a hundred applications, ten incredible young women became the team (read the full biography of the team).
They are the heart and soul of this operation–I am lucky to work with such an amazing and diverse team. Of course, organizing such a large scale event has not come without challenges. On top of our HFTMG obligations, we are all students and are either in the midst of or have just finished up our school years. We've also never met in person; all of our communication has been done via group chats and Zoom meetings. In terms of the event itself, creating a virtual event was a completely ground-up project. You'd assume that you can take a lot of the Met Gala's actual planning and move it online, but the Met Gala is so dependent on everything and everyone physically being there that it's impossible.
The only thing we have carried over is the idea – the dream of the Met Gala rather than the specifics of it. The Met Gala is known for being fancy and fun and a place for people to dress up in these crazy outfits, and we wanted to be able to replicate that feeling online for people. Luckily, the team is amazing, and we all work incredibly well together. Despite spanning seven different countries and having wildly different time zones, the eleven-member team has put souls into this event to make it an enjoyable event for everyone.
Talk about the opportunities for organizing this event?
COVID-19 has been the spark to set off what I hope will be a flame in the industry. The technology for augmented reality or virtual reality shows has been there for years – as someone coming from a STEM field by training. I can attest to the fact that in terms of technology, we've had it around for a while. 
The most challenging thing about change is the initial push. There's a bell curve of adopters, but what COVID-19 has forced the industry to do is speed up that bell curve in terms. In times of crisis, you must adapt. I've personally felt that fashion recently has stagnated. If looking specifically at how events and shows are organized, smaller brands seem to be the ones pushing the box where larger labels seem content with sticking with what works. 
From a commercial standpoint, it makes sense, why change and risk it when you don't have to? But COVID-19 has taken the rule book and thrown it out in a sense and forced us all to look at what we have and reassess how valuable pieces of the puzzles of our lives are. And you've seen this in fashion. 
We've seen incredible designers in Shanghai live stream an entire fashion week, we've seen brands taking the initiative to reach out to fans directly at home like the McQueen creator project. Christopher Kane is sending out free DIY mask kits with stock fabric, Reese Cooper recently launched a kit where you can make your jacket with instructions and patterns and everything.
Moving FORWARD:
The High Fashion Twitter Met Gala – though started far before COVID-19 even broke out – is just another stepping stone. If we can do our part to prove that there is a way forward, who knows what will be next?