Vancouver Fashion Week SS23
VANCOUVER, BC, 21 October—Vancouver Fashion Week (VFW)SpringSummer 2023 continues, presenting an assembly of show-stopping designers. The second evening of Vancouver Fashion Week Spring/Summer '23 began with a brief message from event sponsor Bully Blocker before opening straight into the first designer's presentation. VFW, a global platform for local Vancouver and international designers, featured talent from Mexico, Iran, and Korea.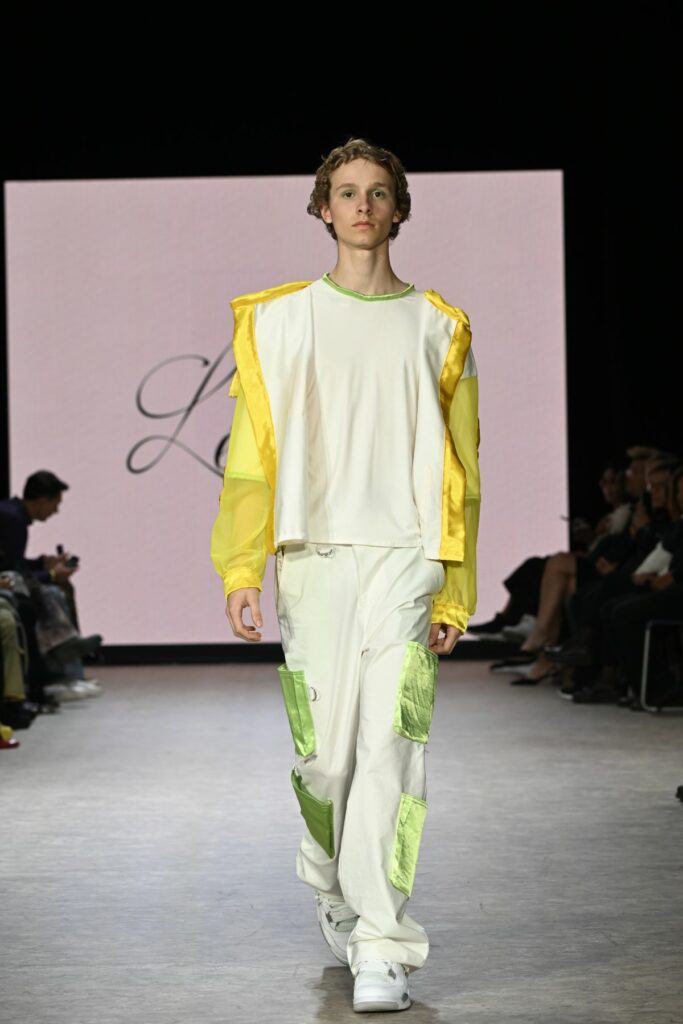 Lé Lesél, a self-described Christian brand, opened the runway with the collection "G Lofi." The characteristic white workwear pieces embellished with colourful silk pockets and finishings were the designer Lesél Picou's interpretation of carnival traditions from her family's native Trinidad. Sprinkled in between the workwear were youthful silk separates. The collection is inspired by tech-wear and fantasy, signalling what the designer calls the "Armour of God."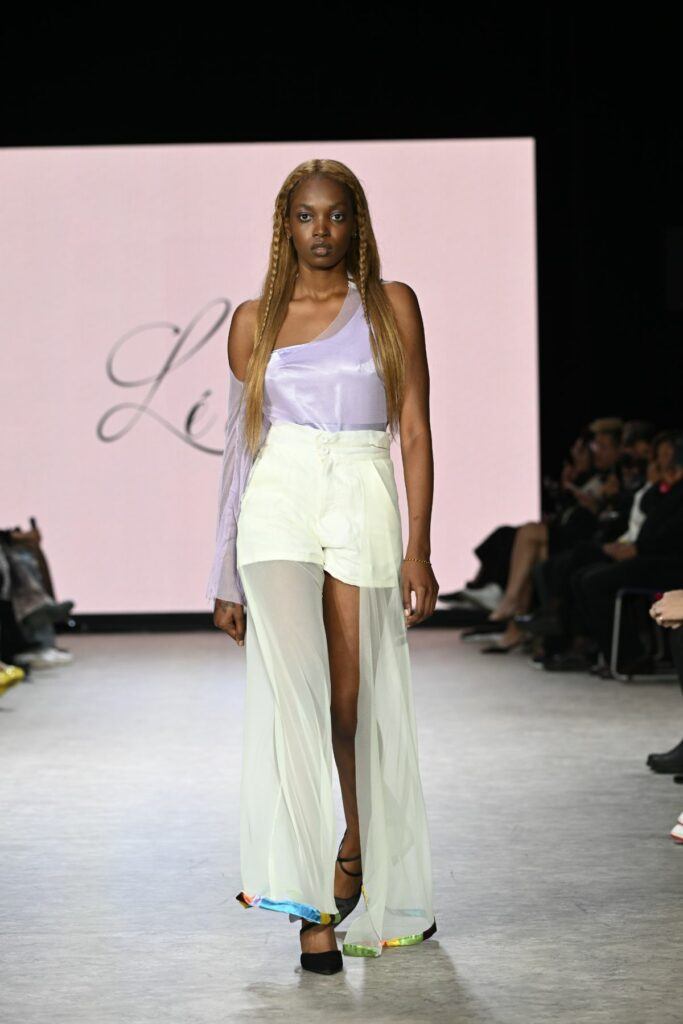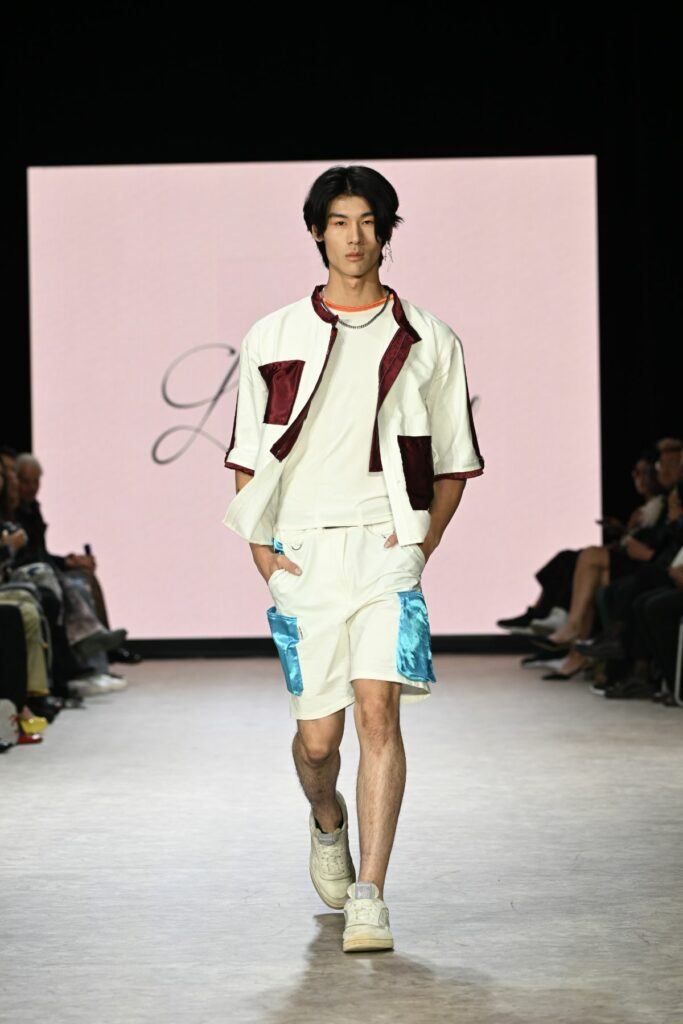 María Correa presented a luxurious collection of strong silhouettes entitled Dubai-Abu Dhabi. Inspiration in mosques, deserts, and seas reveals itself as strong structured shoulders, a signature graphic print t-shirt worn by several models, and a beautiful colour palette of turquoise, cream, and royal blue dresses and separates.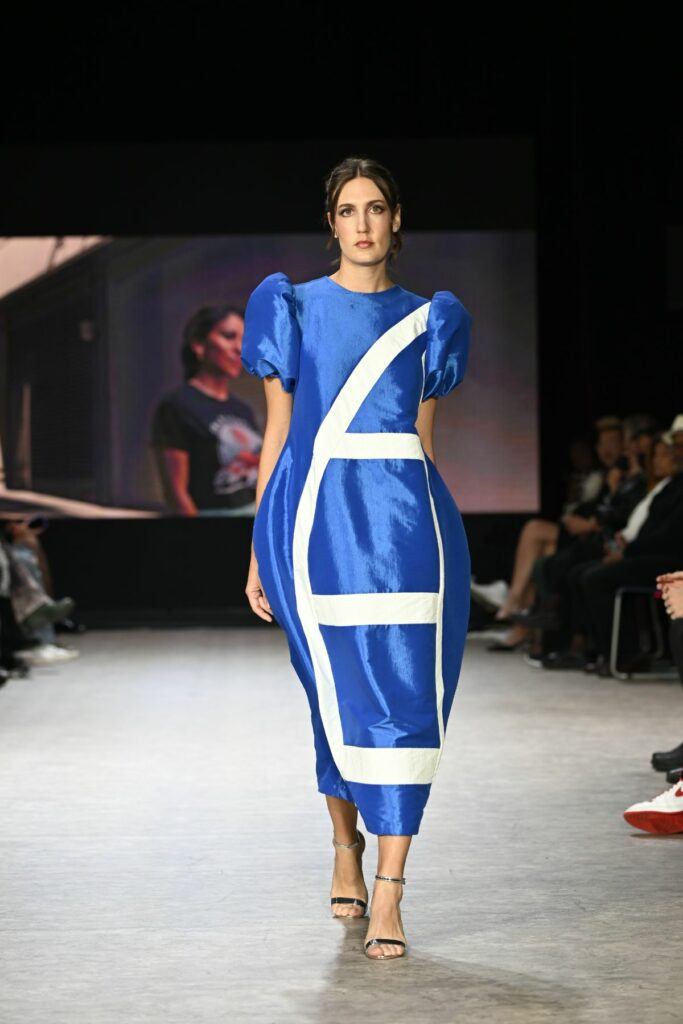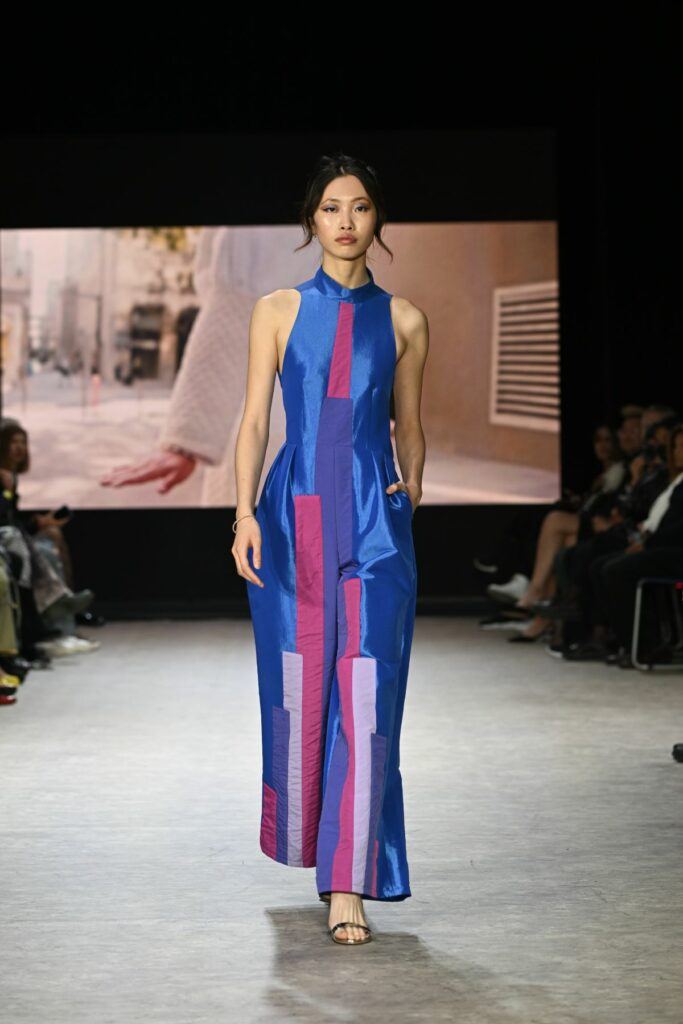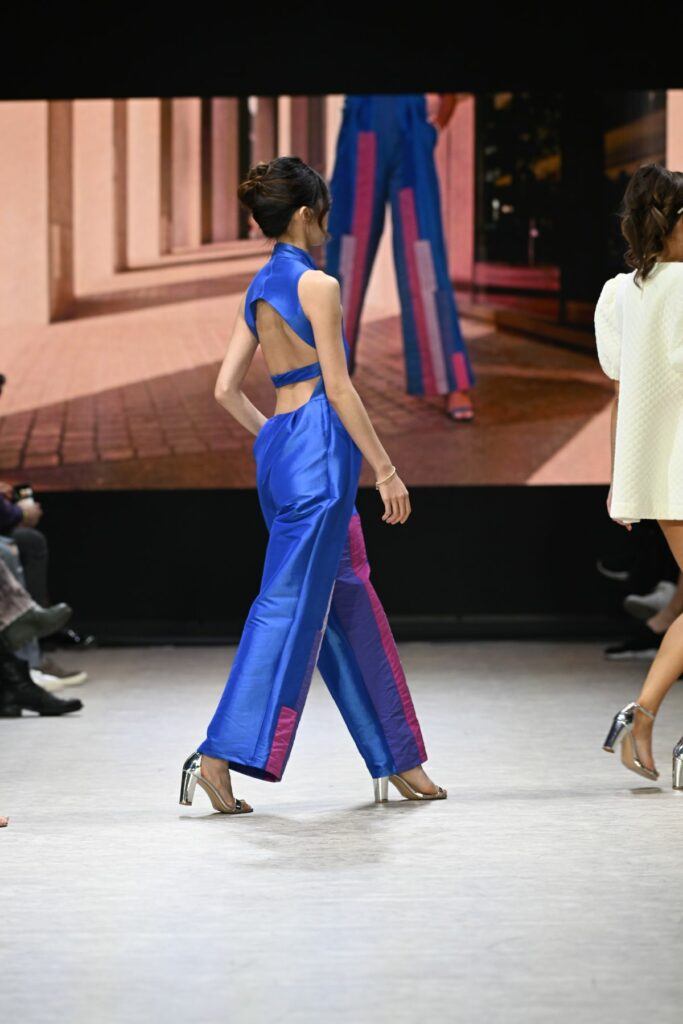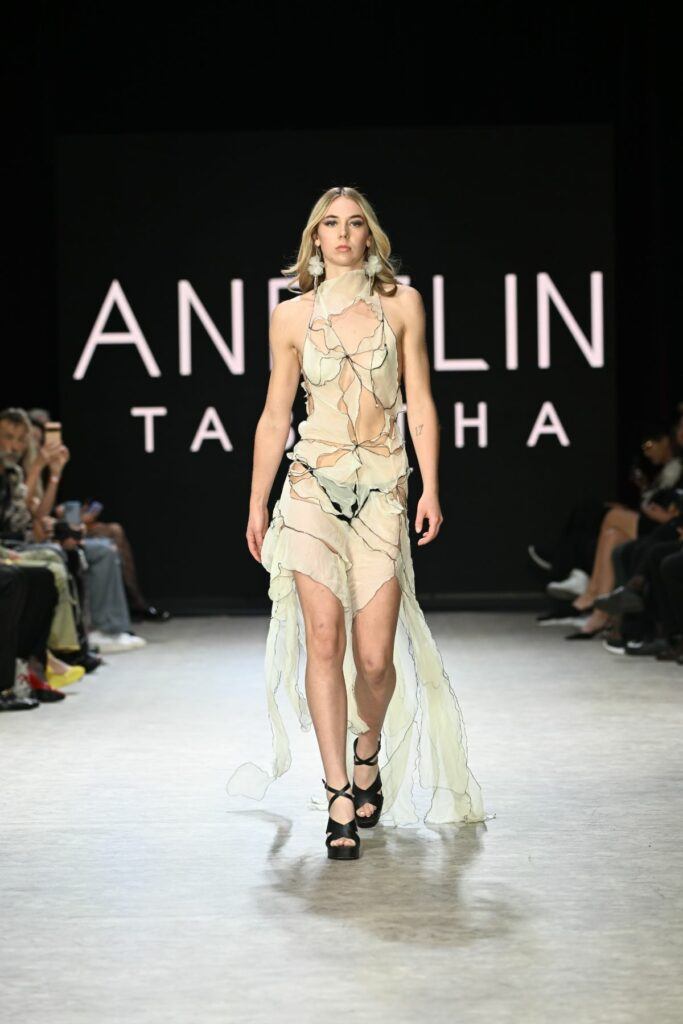 Tabitha Andelin, a Los Angeles-based designer, stormed VFW's runway with a sultry collection of high-end streetwear. Seasonal trends such as low-waisted trousers and skirts, as well as extra-long ties, made appearances. Andelin [obviously] knows what is trending this season— Denim, experimental dyeing, and ethereal dressmaking were strong benchmarks of the collection.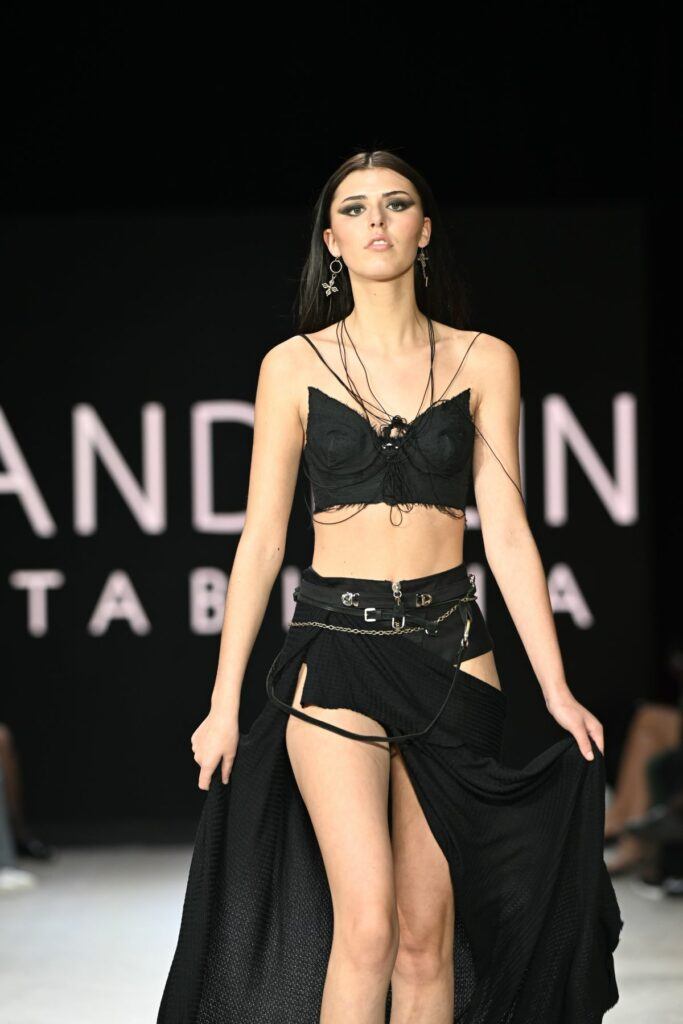 Blue Tamburin's collection came down the runway to the thunderous roar of an epic soundtrack. Firmly rooted in fantasy with stunning floral elements and historical fashion silhouettes, each look seemed to have walked right out of regency-era period drama and onto the runway. Sheer overcoats, waistcoats, and dresses billowed as models passed, evocative of freedom and boldness.
Reihani Design began their presentation with a touching video highlighting the current struggle for women's rights in Iran and the death of Mahsa Amini to the supportive round of applause from the crowd. Three models open the collection donning tracksuits in the colours of the Iranian flag emblazoned with the words "Freedom," "Life," and "Woman" before ceremoniously cutting their hair in solidarity with the women of Iran. The predominantly black and white collection featured slogans in Arabic and English, such as "Women Unite," "Be Our Voice," and "We Will Be Victorious" to the sound of Uprising by Muse.
Jasive, by Mexican businesswoman and designer Jasive Fernández, presented a masterful collection full of romance. Models glided down the runway, enveloped in floor-length gowns/skirts, dense ruffles, dramatic trumpet sleeves, and tulle crafted into the most fabulous fascinators. The colour palette stayed pretty consistent with black, white, and red.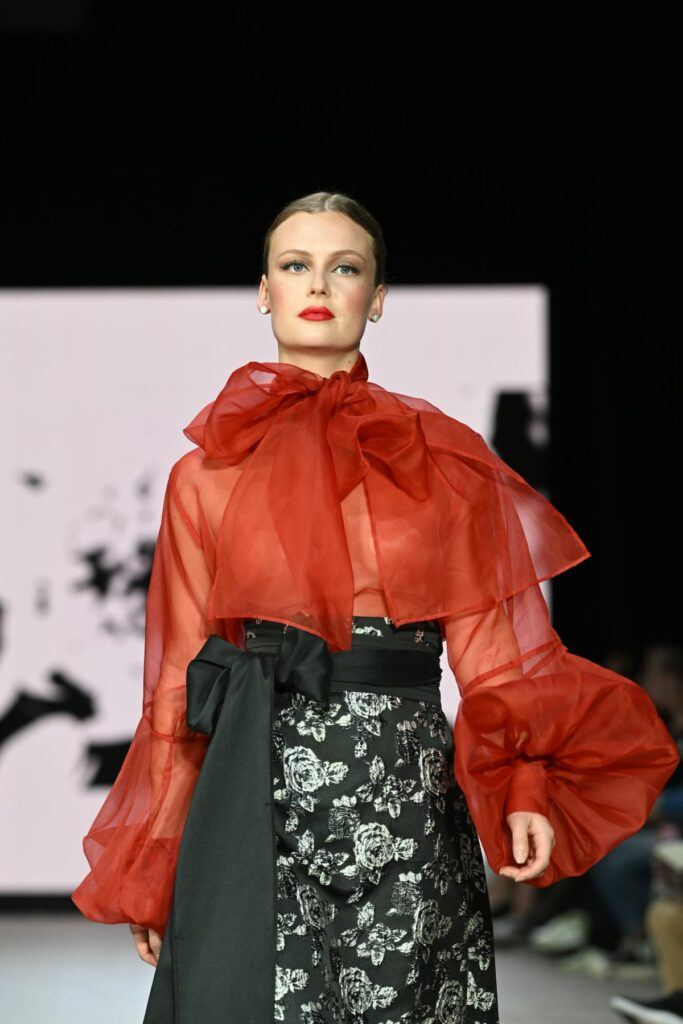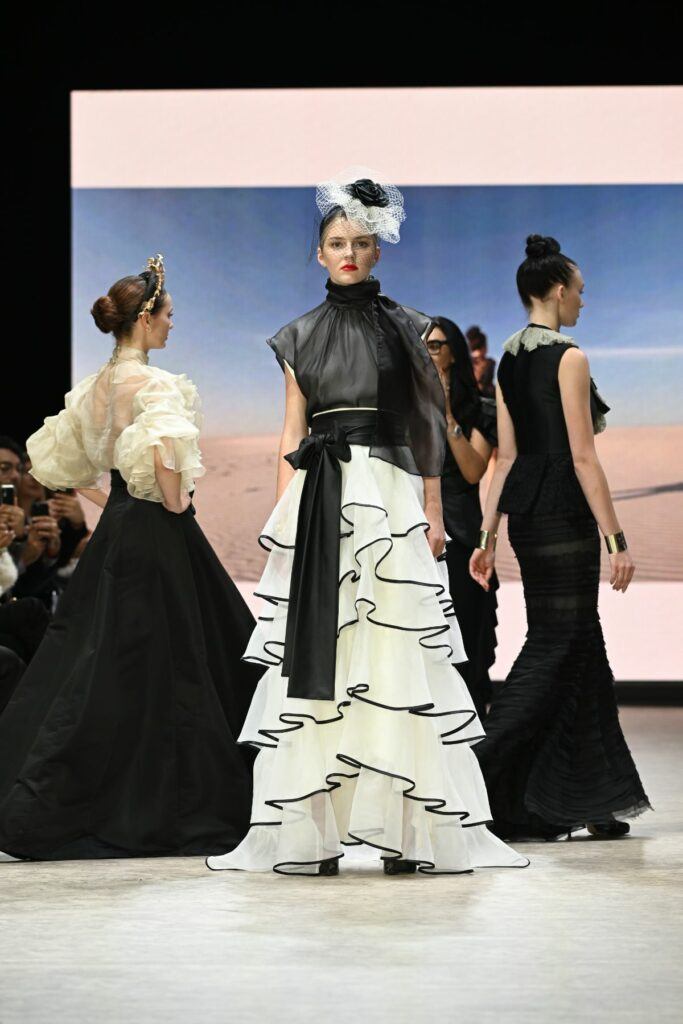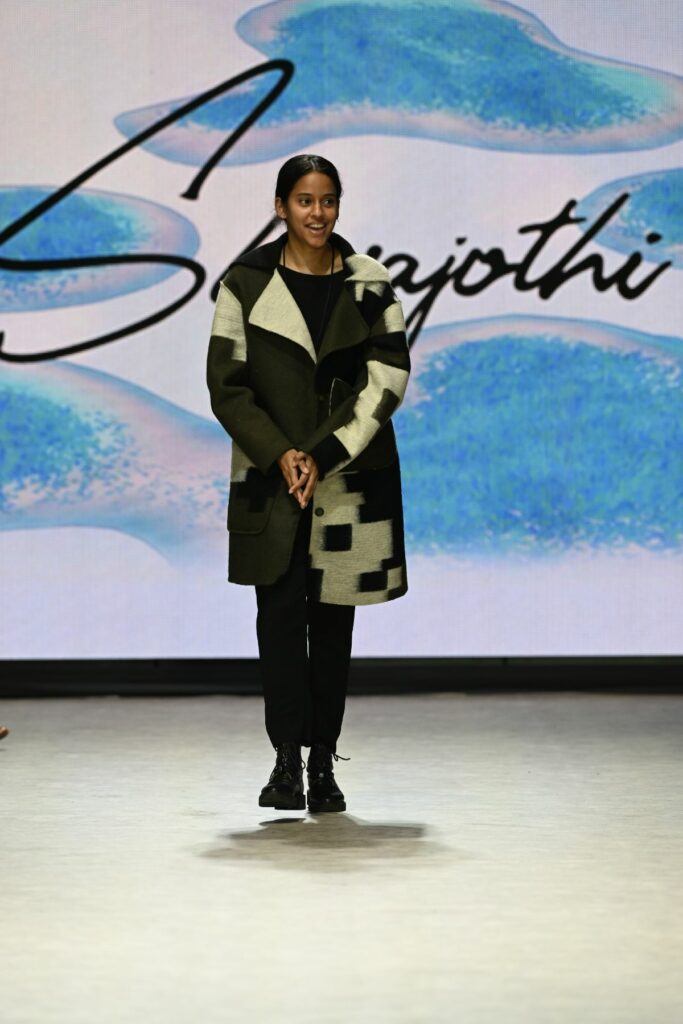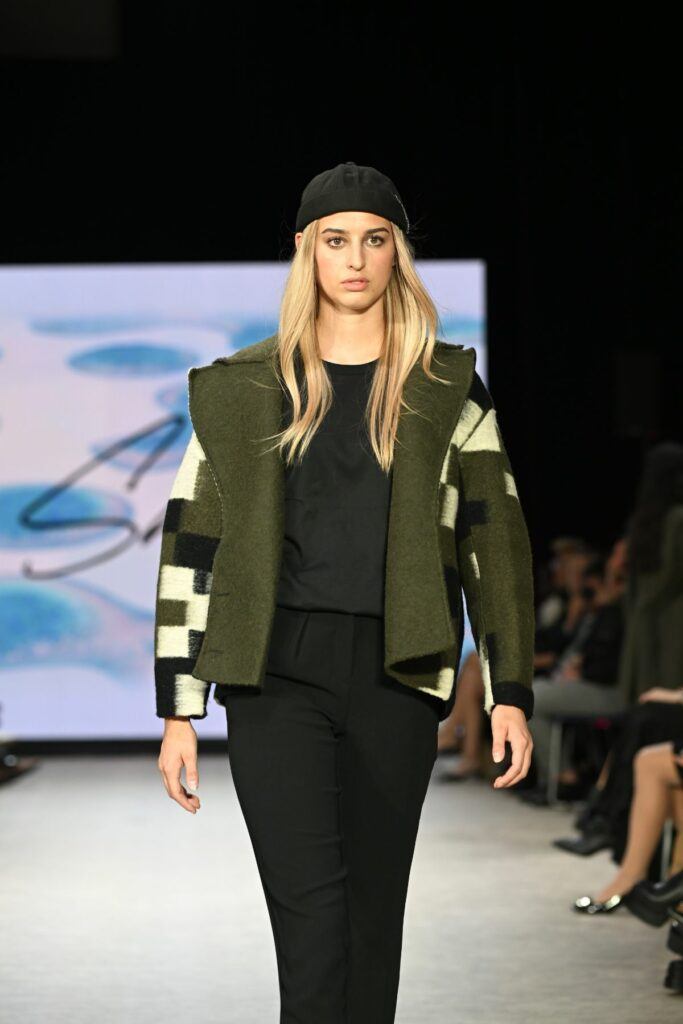 Shivajothi presented a gender-neutral collection full of tailoring fused with the Canadian designers' Sri Lankan heritage. With models down the runway with skull caps, the clothes were mostly grey, black and white; the utility of tech wear combined with military elements and fine tailoring created an amazing fashion show.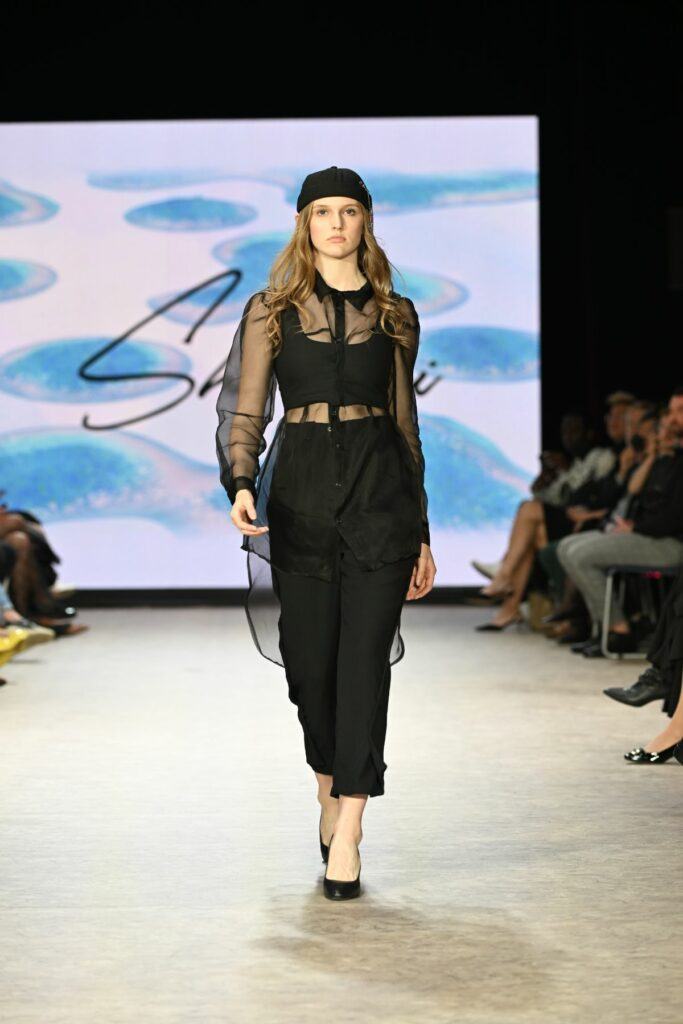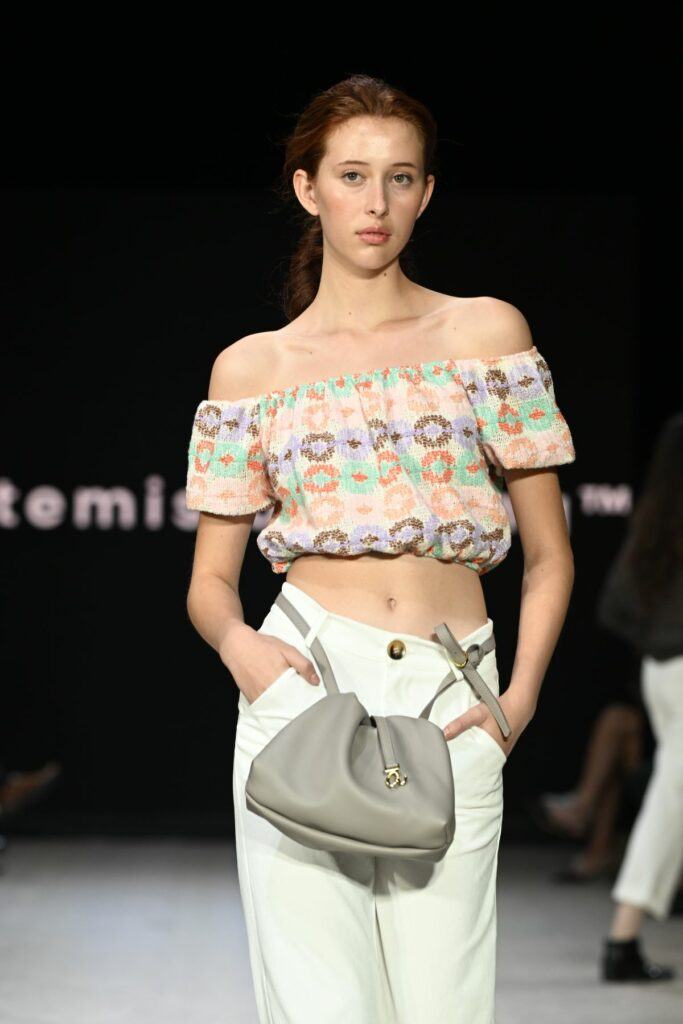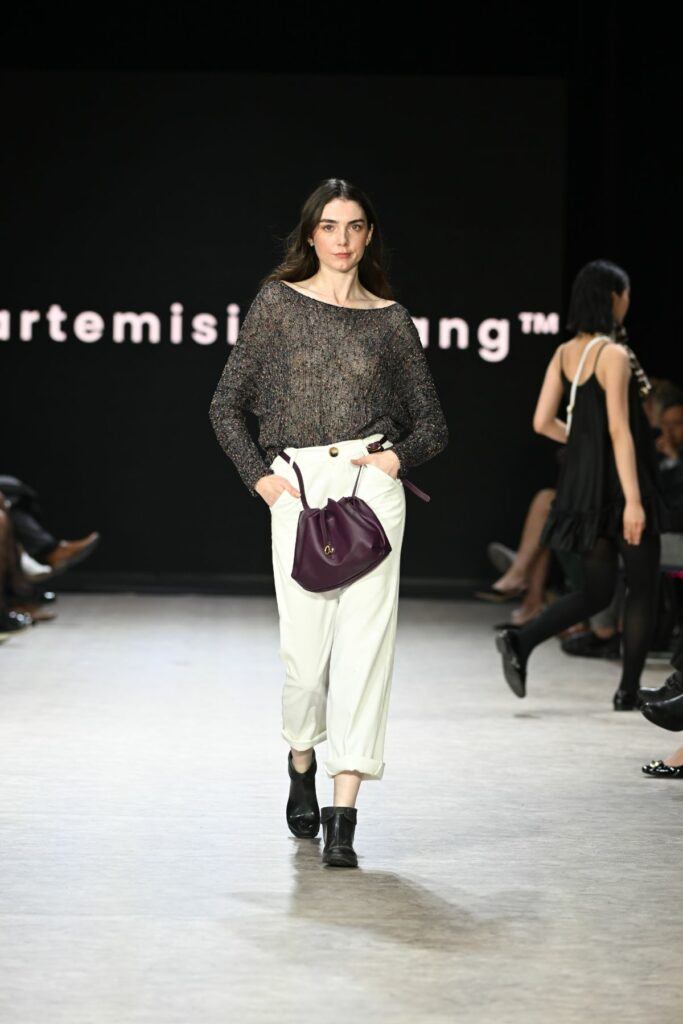 Artemesia Hwang broke through with a lively presentation of feminine energy. Billowing silk flared sundresses with high-low hems, deconstructed slip dresses, and practical trousers come together to create the perfect closet for a springtime picnic in the park. Shoulder bags styled with the straps through the belt loops of trousers accessorized the looks for an amusing aesthetic display.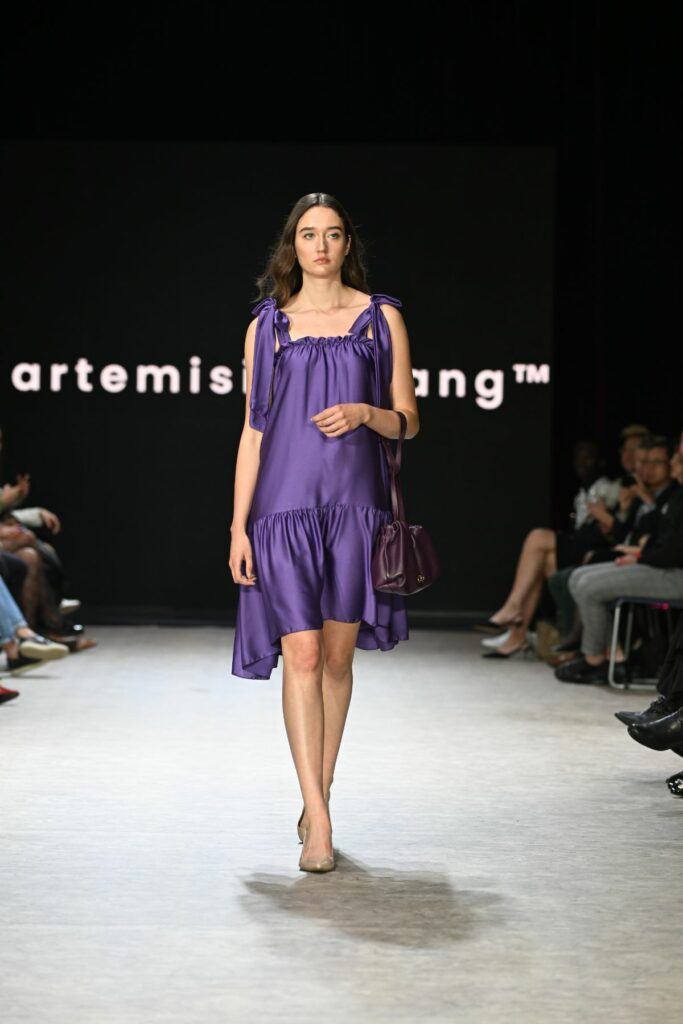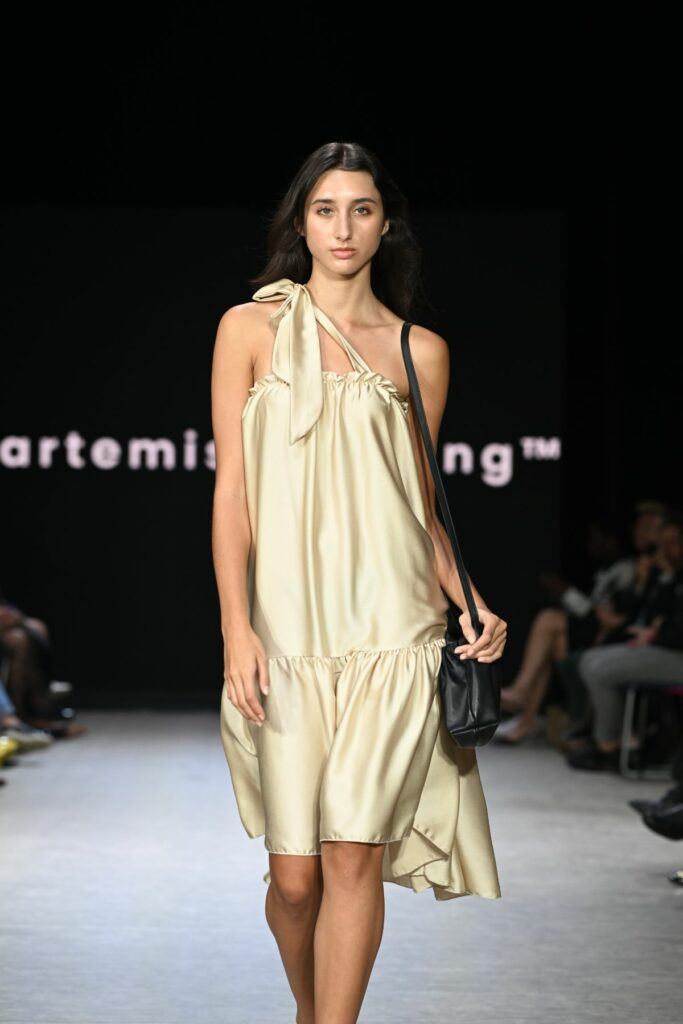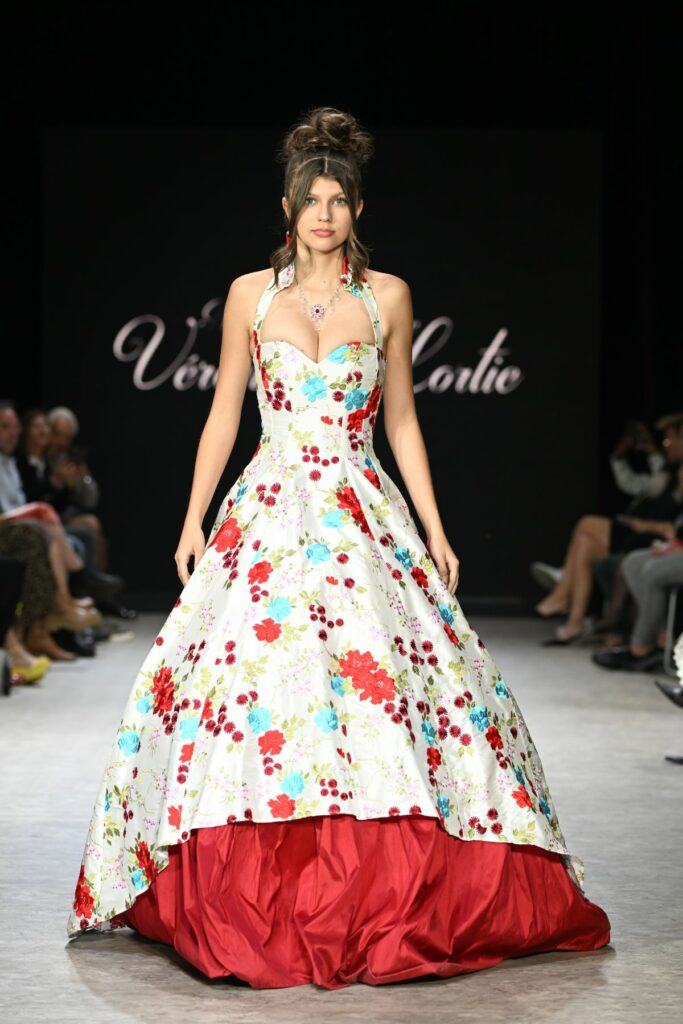 Maison de Couture Signé Véronique continues with the feminine romance, as models come out in simple modern ruffles and what seem to be references to rococo and cottage core. Sleek straight lines combine with colourful flouncy silks, pearls, and sunglasses to create a romantic early 2000s fantasy. The presentation closes out with a male model in a complete look with a tophat and a crimson overcoat with an enormous train trailing behind.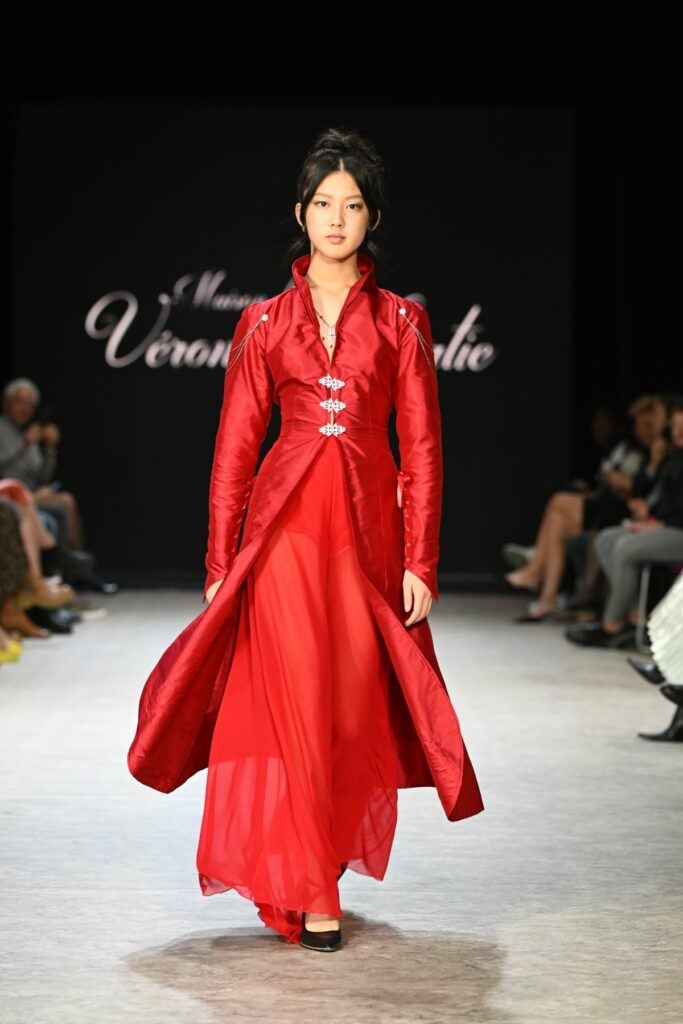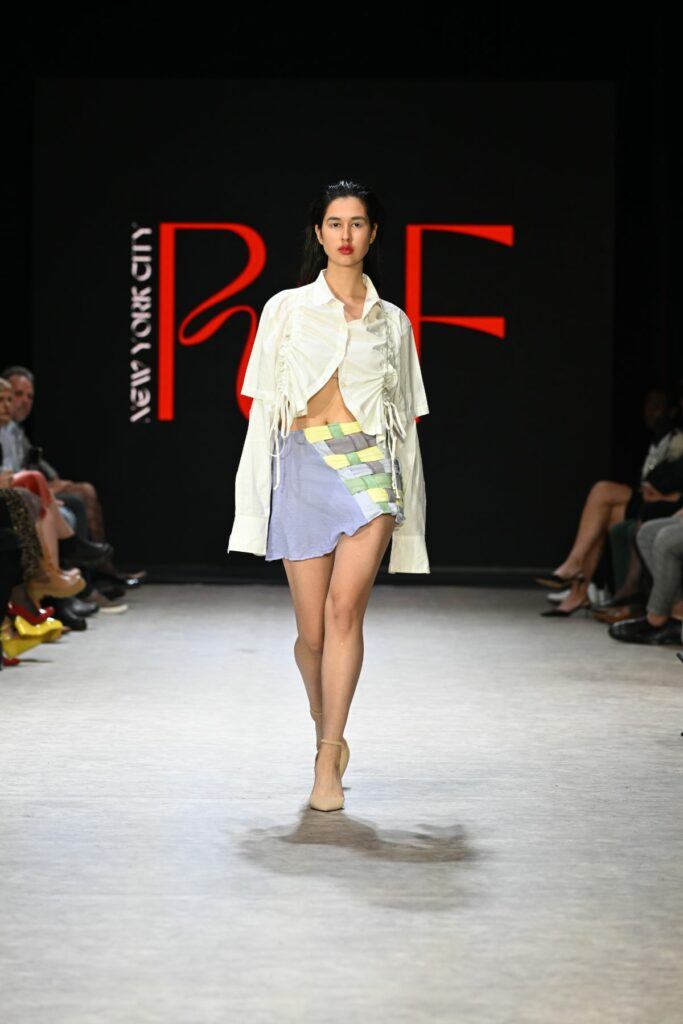 Run & Follow rounds out day 2 with a well-constructed deconstructed collection —Intertwined. Billowing ruched dresses and silk gathered garments that effortlessly follow dramatically plush woven tops paired with workwear-inspired canvas pieces. The amount of detail and non-conventional finishing methods speak to the designer's dedication and level of artistry.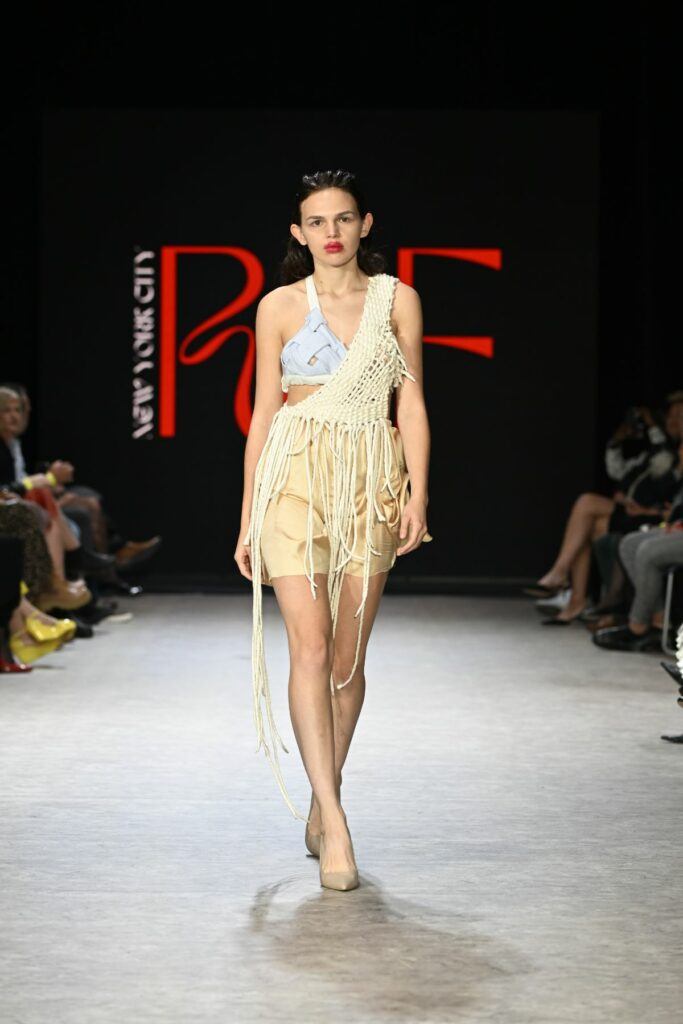 About Vancouver Fashion Week (VFW): Established in 2001, Vancouver Fashion Week has been dedicated to cultivating the success of both established and award-winning emerging designers with its global perspective and highly multicultural approach. Championing diversity as its greatest strength, Vancouver Fashion Week has become the second-largest fashion week in North America. It is one of the fastest-growing fashion weeks in the world. The team at VFW continues to provide its designers with a platform for their craft and ongoing opportunities for commerce and success.
Article written by: Destiny Gong @ Hybrid Rituals Media
Photography by: Arun Nevader