Click & Get Styled
at
home with
an expert Stylist
All Images Courtesy of The Style App.
Closet full of clothes staring back at you, yet nothing to wear–we have all been there, the frustration while getting ready for the day. Do we buy more?– when having enough clothes is not the problem. To the rescue is The Style App–the first on-demand styling service–to give you an actual shopping experience to help you move forward with your closet and style.
The Style App is the first on-demand styling service – connecting customers with a Personal Stylist to shop together either in-person or virtually. Founded by Linda Stamko, she created the Style app to shop in person; however, when the pandemic hit, they pivoted and launched two virtual styling features: shop online and closet edit – both from the convenience of home with an expert Stylist. The Style App aims to refine their clients' style without the hassle and the frustration of doing it alone.
Stamko felt she couldn't be the only one with a closet full of clothes, nothing to wear, and found herself wandering in a mall, not knowing what to buy. There must be a better way to shop, she thought. After researching the market, she saw a gap and decided to
create a Style App. Unlike other styling apps or websites that send clothing to your door, or mood boards to view, with Style App, you finally get the personalized service and shop with
a real Personal Stylist. The idea for the Style App profoundly reached Stamko, and she knew she had to seize the opportunity and go for it.
Only recently launched in March 2020, the Style App, the new and innovative way for Canadians to shop, has done incredibly well for a start-up during a pandemic.
We talked to Linda Stamko to learn more about The Style App and make shopping an easy and convenient experience.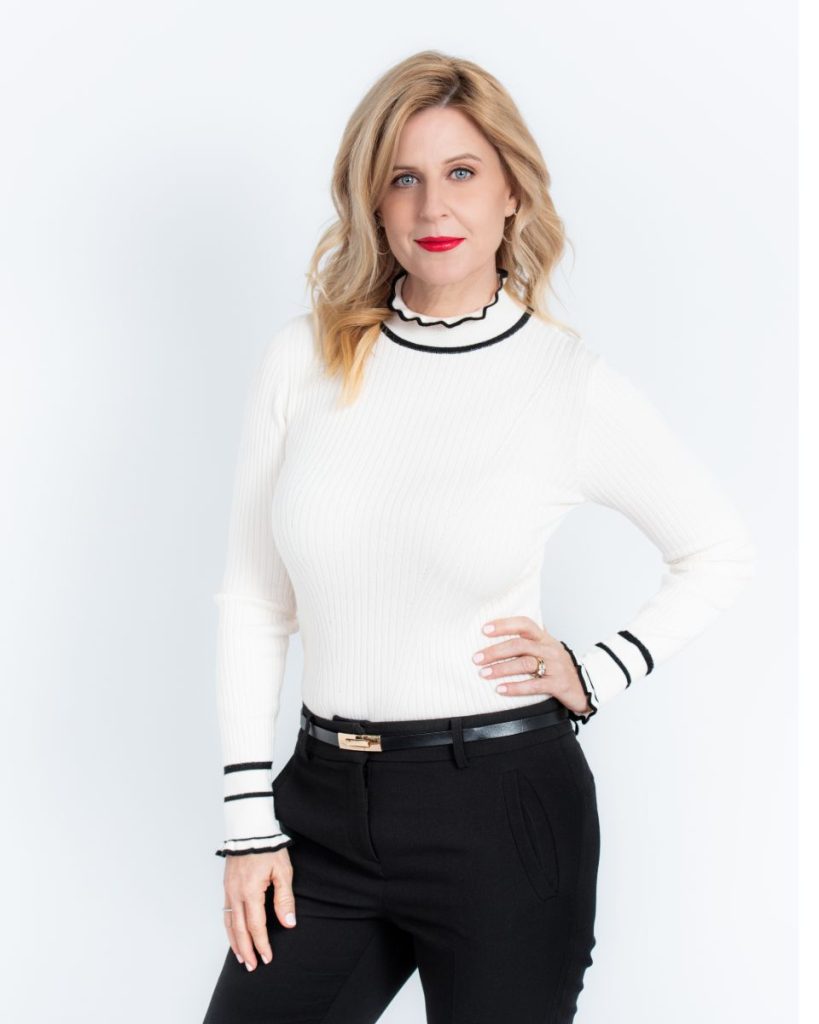 How does the Style App function?
We offer in-person shopping or two virtual shopping features, online shopping or closet-edit.
Style App is easy to use–Click & Get Styled.

1. Choose what, where and when you want to shop – select a location, a shopping category, and date and time.

2. Choose a Stylist – view our Stylist profiles and find one that's perfect for you, or we can pair one for you.

3. Shop with your Stylist – watch your style come to life with our personalized service or shop for someone special.
Where did your interest in fashion begin?
I still remember the first time when fashion mesmerized me–I was a little girl accompanying my mom to see her Stylist. As I watched her transform my mom into this glamorous woman, I knew I loved fashion, not
just for the clothes, but how clothes can make you feel.


Why did you decide to start the STYLE APP?
Most of us have a heightened interest in achieving a personal style that suits us – we all want to look our very best but find it hard to put an
outfit together or don't have the time to do so. When I wanted expert advice from a Personal Stylist, I didn't know where to find the service. With the Style App, we've brought the Stylist to you, all in one place–at a click of a button, you can get styled.
Tell us about your inspiration for starting the STYLE APP.
My inspiration for creating the Style App began with a couple of whispers and then that one big "Aha" moment–the conflicting ideas of a Christmas gift for my son. I wanted to buy my son clothes as a Christmas gift only to realize he would never wear what I get him, because what could a "mom" possibly know about fashion! Just as I was settling on money, the incident where my son came home with a ridiculously priced belt when I had sent him to shop for a pair of pants. So, at that moment, the Style App was born. I envisioned pulling out my phone, finding a Personal Stylist, and shopping together, and that is exactly what I've created.
What do you hope to achieve from the STYLE APP?
I want to give everyone access to Personal Stylists from the incredible convenience of an app. What you wear conveys who you are–whether it is a first date, a business meeting, or a special event, we give you access to Personal stylists to give you the confidence to be the best version of yourself. With our help and expertise, we help men and women make the right choices for their body shape, lifestyle, and personality.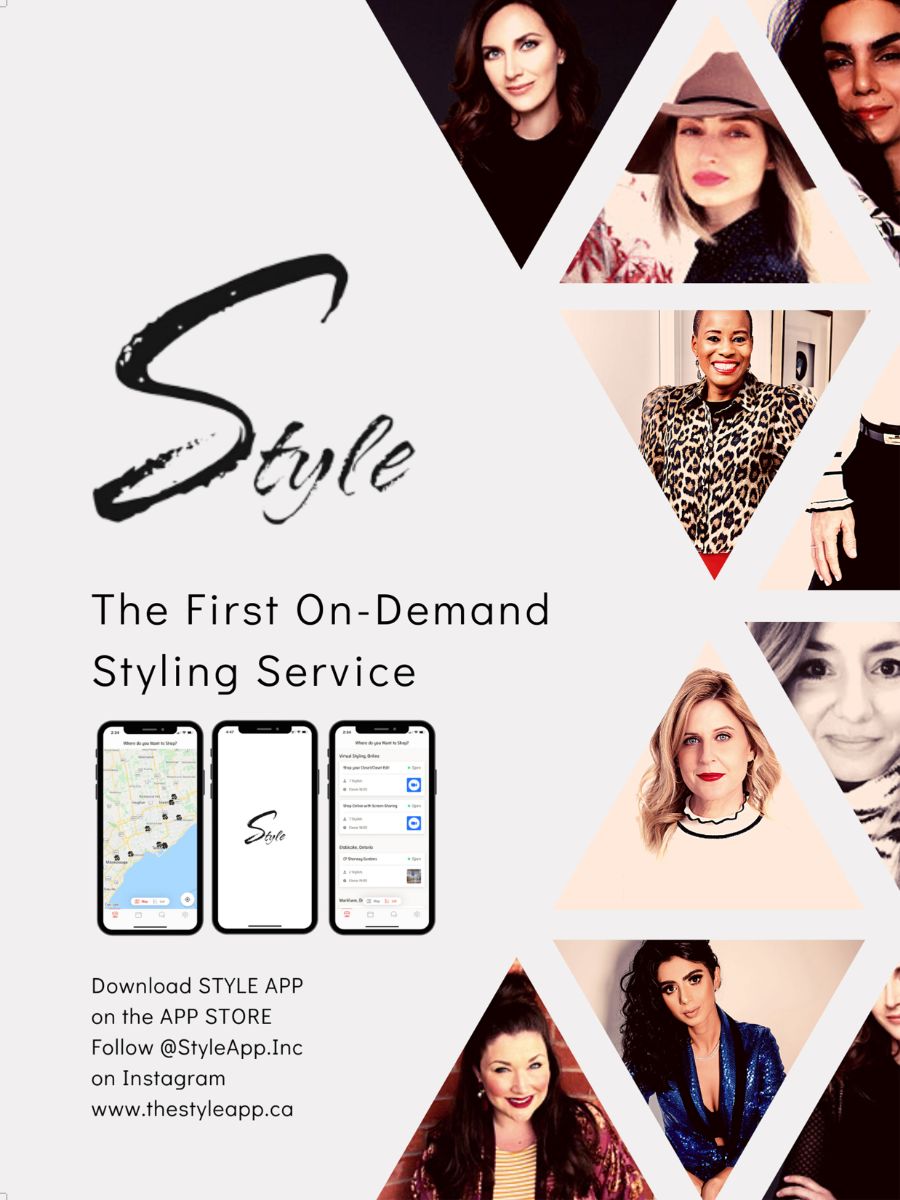 What is your definition of style?
My definition of style is simple. Style is when you look and feel the best version of yourself. It's not about wearing a trend or colour; it's about how you wear them. Style is the foundation of how we dress. It's not something you are not born with, and I think most people need help with it. But when you have style, you look good, you feel good, and you ooze confidence. I love the word style so much and find it so inspirational that I named the app Style because it means something different to everyone.
How does pro-age play into the styling aesthetics?
I am a passionate pro ager– I define my age on how I look, feel and present myself. The Beauty of the style App is that our one-on-one service facilitates the allure of embracing oneself.
Our expert stylists have the training and experience to assist the clients in expressing how they feel, define the style based on their personality and not on their age. We value the positivity of ageing and make everyone look their best at any age.
How do you ensure that the clients are guided into a more meaningful relationship with their wardrobe?
We understand that a wardrobe is a tool to expresses oneself, and a carefully selected wardrobe can speak volumes before you even say a word. We pride ourselves on providing extremely personalized service with focused attention to our client's individual needs; with no stock or paid partnerships, we uniquely tailored every suggestion.
Our primary focus is to guide our clients to understand their wardrobe needs, and the end purchase is entirely at their discretion. We offer suggestions on gaps to fill in the wardrobe, recommendations on purchase but giving them space to make the decision is how we ensure
and guide our Clients to have a more meaningful relationship with their wardrobe.
Your insights on the connection between style and self-worth?
When you look good, you feel good, and it shows. We have all felt that confidence when we had rocked a particular outfit; it's a powerful feeling that makes you walk a little taller and gives you a positive vibe and energy. We should stop comparing ourselves to others and embrace and love who we are to see our Beauty. A good start is to wear the right outfit suited for you to lead a more confident life.
What inspires the STYLE APP to move forward?
The fact that we are trailblazers in our field inspires Style App to move forward. Our entire team is passionate and excited, working hard in making Style App a household name, and so far, the journey has been exciting.
We look forward to going all across Canada and adding more cities and malls to Style ALL Canadians. We want everyone to wake up in the morning, effortlessly get dressed, and have a closet full of clothes one loves and wears.∎