After a year of no Heels, get ready to welcome them back, and with comfort
|
–with TANYA HEATH Paris Shoes.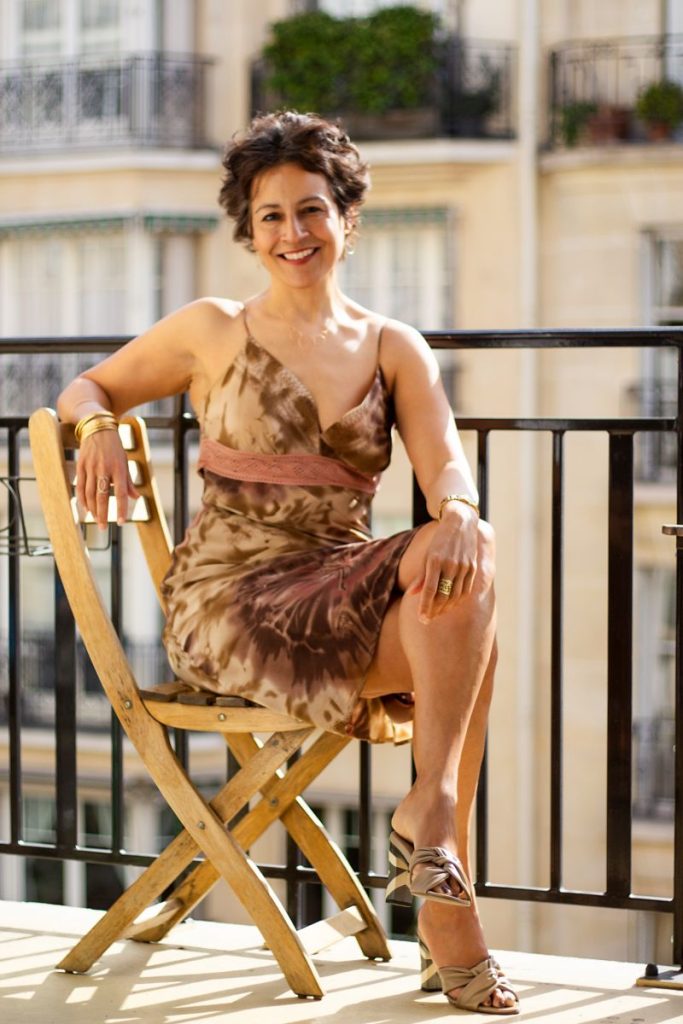 Our relationship with heels is a complicated affair. They are uncomfortable, but women still adore their Painful High Heels. After a year of being stuck with fuzzy socks, flats, sneakers, and Velcro sandals, this might be the end of their love affair with high heels for some women. While others are dipping their toes back in and can't wait to wear their favourite heels, discomfort be damned.
While we eagerly anticipate getting 'dressed up' again, it looks like women can still choose to go back to wearing heels–be not horribly uncomfortable, but gently uncomfortable.
To convince us of our love for Heels is Tanya Heath Paris, Shoes with removable heels to transition a woman throughout her day with a push of a button. So throw a pair of stilettos, kitten or block heels (or all three) into your purse and go all the way from the boardroom to the ballpark by switching out a Tanya Heath removable heel, which is as easy as clicking a button.
Founded in 2009 by a Canadian-born Tanya Heath living in Paris, TANYA HEATH Paris is more than just a shoe. The brand, which is a labour of love of founder Tanya Heath, is also her way of discussing some passionate subjects, particularly feminism and diversity and inclusion.
From Paris, Tanya Heath discusses with FORWARD how her struggle to find shoes that were versatile enough to adapt to her busy lifestyle lead her to the idea of TANYA HEATH Paris. The shoes with interchangeable heels with a vision to empower women and help them eliminate at least one daily drudge.
About TANYA HEATH Paris Shoes.
TANYA HEATH Paris is a customizable shoe with changeable heels. Footwear where you can change from a low walking heel to a high heel on the same pair of shoes with the click of a button. The brand now carries seven different heels heights in hundreds of patterns, so the customers can instantly create a pair of shoes perfect for their lifestyle, which fits into their wardrobe.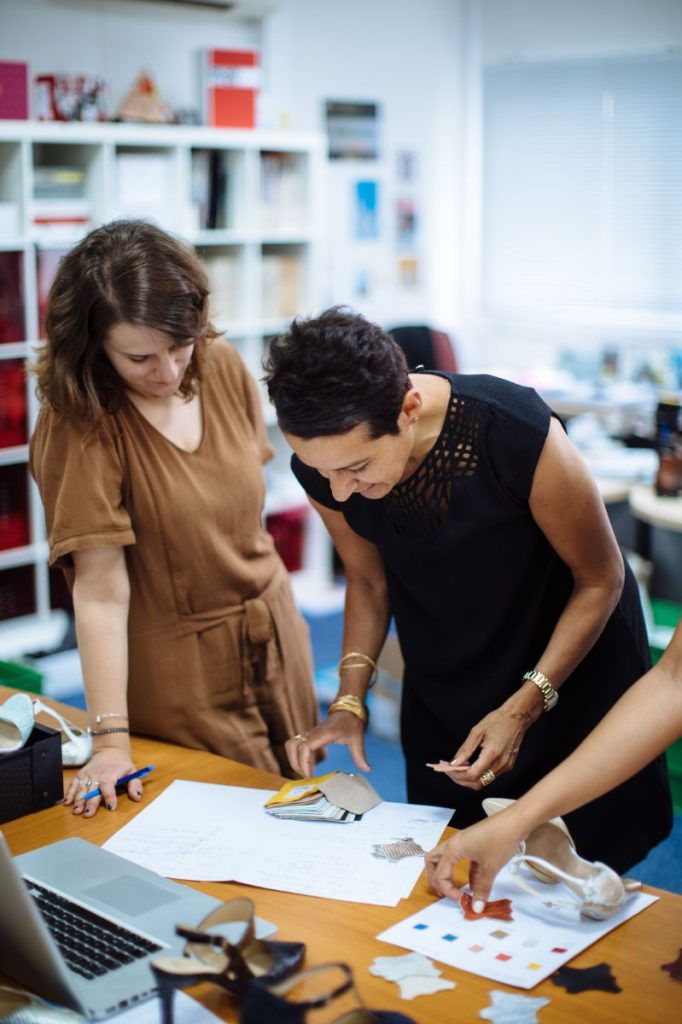 What inspired you to come up with the idea of creating shoes with interchangeable heels?
I slipped into my first pair of heels when I was 18 years old, and I couldn't walk like the purposeful person I am. Ever since then, I thought that, even if it's me, someone had to do something about these painful, inconvenient, and unsafe heels, which, despite it, was loved for the way they made me look and feel!
Also, I had helplessly watched my mom, who was a fantastic dresser, retire her heels to the back of her closet, declaring that they had given her bunions and that she couldn't stand the pain anymore. 
While working my corporate jobs, I always had footwear problems. I struggled to find fashionable, adaptable, and functional shoes to take me from work to running errands and take my three kids to school– I lugged around carrying extra pairs of shoes for long enough. 
When I was 40, I saw myself on the verge of going down the same heel-less path but instead used technology and innovation to create a woman-friendly shoe that adapts to her busy day and lets her get ahead in comfort and style. Thus TANYA HEATH Paris was born.
How and when did your love affair with shoes begin?
As a child at the playground, I hated when my mom sent me to school in a dress paired with running shoes. I wanted a black patent Mary Janes– I cared more about my shoes than my dress. As I grew up, I didn't have many shoes, but I was very particular that they should complement my vibe. As an adult, I became a shoe horse because I always looked for the perfect pair of heels.
Shoes are a challenging trade, and I love the fact that they aren't easy. In fashion, shoes are considered one of the most difficult to make properly. However, I am proud to have created one of the most significant innovations in women's footwear and succeeded in making it look good!
What have you done that sets the Tanya Heath shoes apart in construction, comfort, and aesthetics?
Research and Development. A total of 14 engineers and Shoe Technicians dedicated three careful years to every aspect of our multiple-height shoes, with interchangeable heels, to develop a quality product.
Ethical Sourcing. I spend a lot of time sourcing to ensure that my values are found in my heels. Everything from elastics to leathers is made in Europe in workshops that pay a living wage. In addition to the vegan line the brand already offers, this summer, 2021, we will be introducing shoes made out of recycled fibres.
Comfort and Safety. Our shoes use only two kinds of leathers that are both buttery soft and have memory foam in every single insole of the shoes designed. I also test-drive all shoes myself for at least two weeks before deciding to validate the design. Finally, I coat our soles with an anti-slip surface for safety because no woman in our heels should ever fall.
Our aesthetic is deliberately timeless. With our attention to quality, comfort, and empowerment, every style we make has to answer two criteria. First, can it be worn today and in three to five years without feeling dated? Second, can it be worn from morning to night? If it is yes to both, then that pair has a TANYA HEATH Paris aesthetic. I would be heartbroken to think that my shoes are in the back of someone's closet–I work very hard to make sure they are the pair you leave at the entrance with your coat and handbag.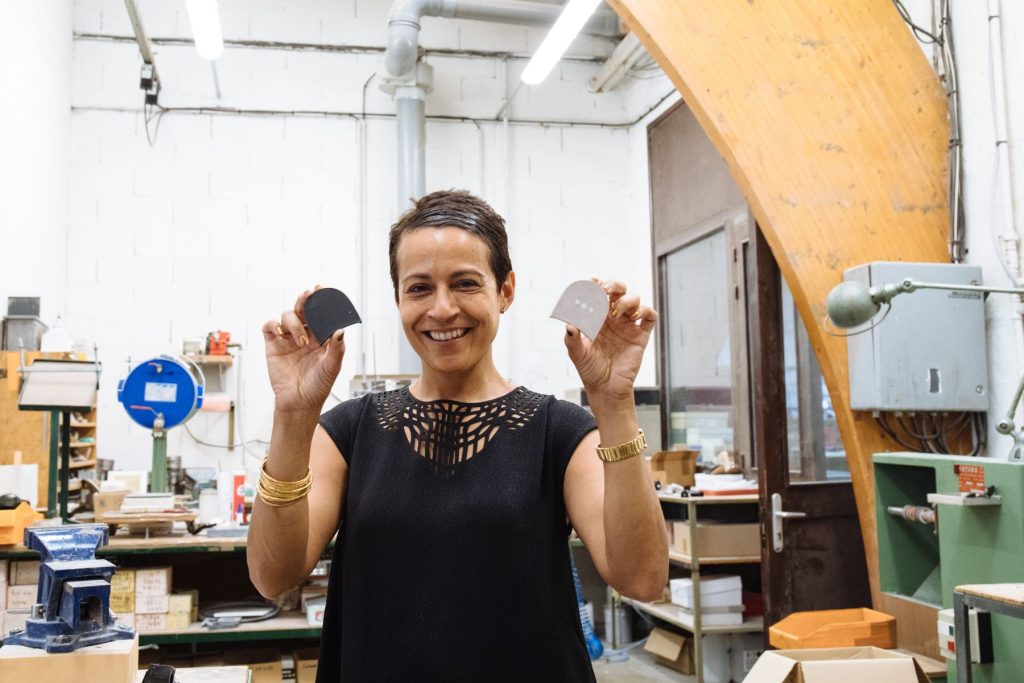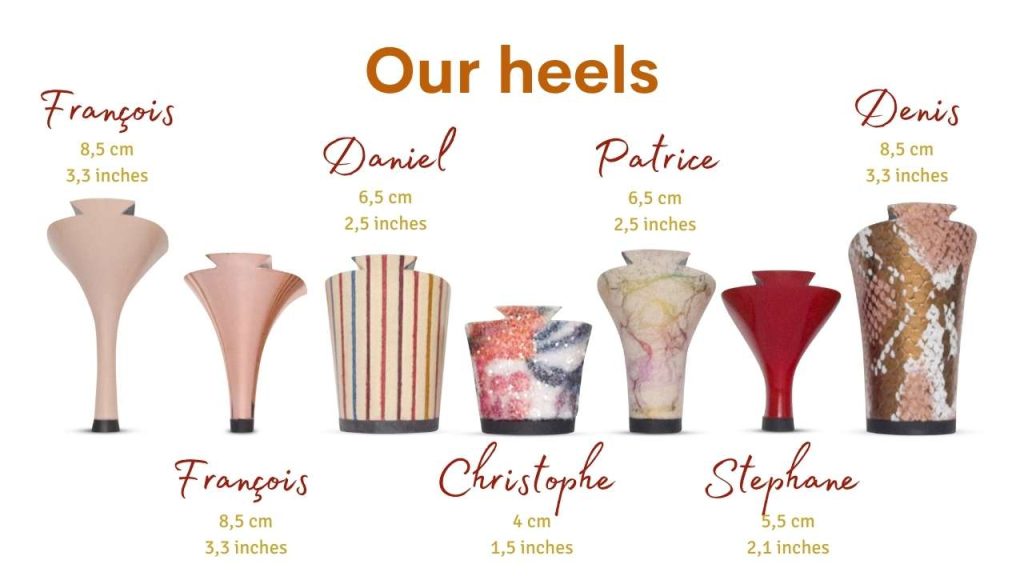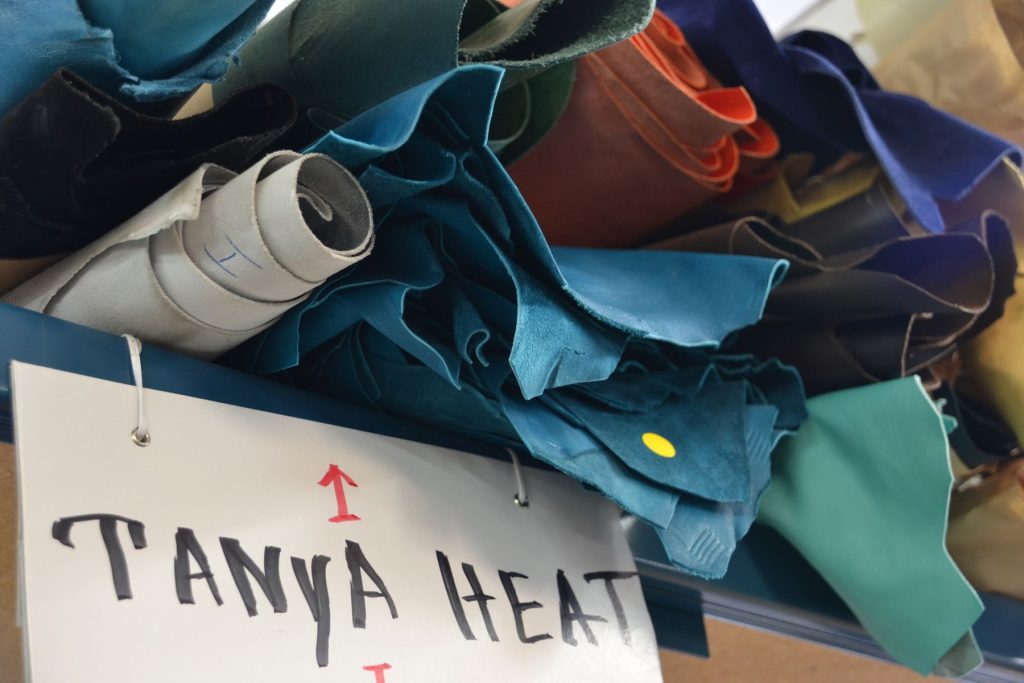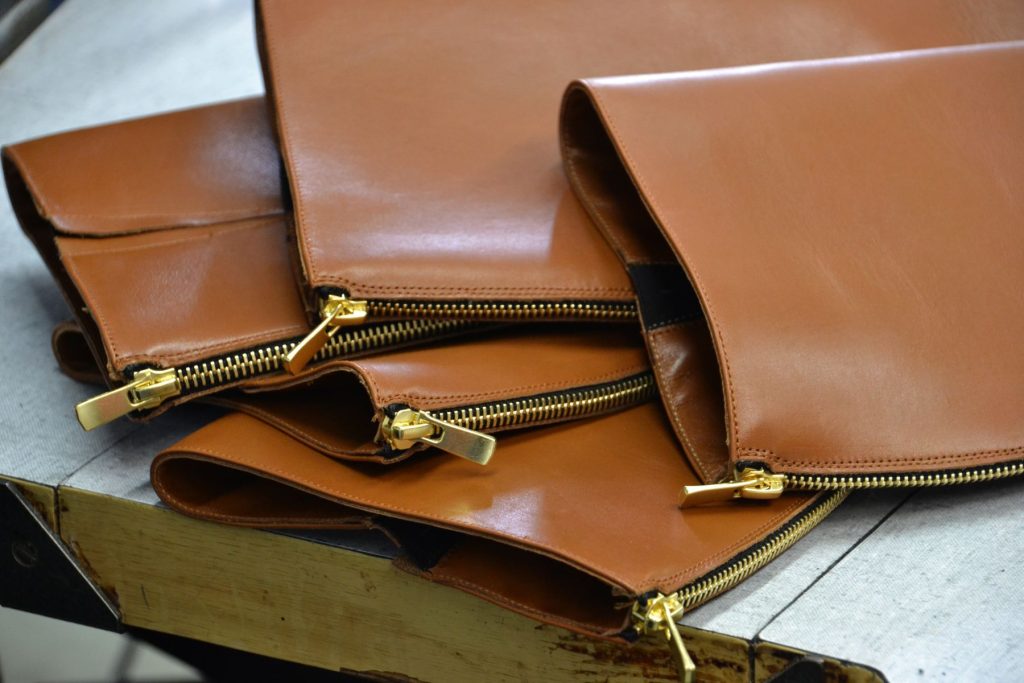 Where does your design inspiration come from?
My mom and her sisters, who love to dress up—each with their unique style. I loved watching them get ready. The dresses that my mom and my aunts wore were relatively simple, like my shoes. The WOW came from the accessories, which in the case of my line is the heels. It is the heels that help you seamlessly navigate your day and express your style.
Describe your design aesthetic in five words.
Feminine. Timeless. Intelligent. Empowering. Confidence.
How does the shoe with interchangeable heels work?
Each shoe has a button on the inside, which activates a lever that releases the heel. So you press down on the button and pull out the heel at the same time. To put a heel in, you slide it in till you hear a click. That is the lever locking the heel back into position so that you can wear it everywhere. The system had to be simple, fast and safe.
What is your favourite shoe you've ever designed, and why?
Lauren, the vegan thigh-high boot. It is serious enough to wear it to work and still subtly sexy to keep it fun. It syncs in with your ankle and gives you a very long leg. My pair of Lauren has been my staple for the past three winters. If Lauren is too racy for you, we have Margaret, which is at a knee-high length.
Since launching your brand, how have you seen the shoe industry evolve?
Fashion has become more casual and concerned with comfort, and flats are now a real option. Luxury is increasingly defined by values such as environmental impact, ethical sourcing, and things that have a meaning, not just wearing the latest trend. We now talk a lot more about up-cycling and simply wearing things more before we throw them out. When I first started working on this concept, I was a bit too ahead of the cycle, so I was a lone voice in the wilderness. But now you can talk about comfort, it's good to have timeless styles that we can wear year in and year out, and it's just fine to be concerned about the people you work with and the planet at large.
I also think that the market has polarized. There is still a majority of the market that is cheap, unstainable and unethically produced. However, with many emerging brands that are sustainable and ethically produced–it's the beginning of a conscious living revolution.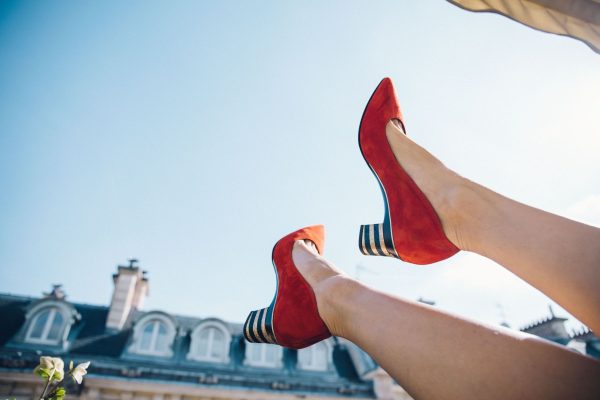 Since Covid-19, how have things changed for you, your brand, and the way you work?
Covid has changed everything! I closed my Paris store this fall, and now we are available online only.
I make shoes for women to get ahead and navigate their busy days–women who travel, get married, or go to events. None of these things are happening now, and one doesn't necessarily need my shoes for the Zoom meeting. But when everyone comes out of Zoom and has just spent a year wearing slippers, they will demand comfortable and stylish footwear. We will be ready! I am working on the website and collections to offer a pair of heels that people can put on without the question of comfort when life returns.
What inspires the brand to move forward.
The brand is a labour of love. To this day, we have remained independent even if we barely scrape through. What I do is hard, but all the happy clients, our suppliers and partners inspire us to move forward.∎
Photography Sabine Brimont | Audrey Brimont