Susan Langdon on the way forward to the future of Fashion.
"We can't go back to the way it was:
The pandemic has allowed us to look back, reflect and change for the better"
Executive Director of Toronto Fashion Incubator (TFI) Susan Keiko Langdon is an experienced industry leader who has nurtured over a thousand Canadian talents to start and grow their creative endeavours.
It came as no surprise when Langdon was awarded the Order of Canada, one of the country's highest civilian honours, for positively impacting Canada's culture and economy. The recognition couldn't have come at a better time than now to leave behind a year stricken with pandemic challenges and pave the way into the new year with hope, encouragement and regard for being a leader.
FORWARD congratulates Susan Langdon on her latest achievement. We are proud of the opportunity to talk about her initiatives during the period of COVID, how TFI stayed functional, and her insights on how Fashion has a chance to become more responsible, more resilient and more sustainable.
You are not a stranger to the Toronto fashion industry; we know you in so many lights. But how do you describe and define yourself– professionally and personally.
I'm a third-generation Canadian and a native Torontonian who loves her country and all that it offers. I grew up on The Danforth, and later in Scarborough, but feel more at home downtown and living the city life. My friends would say that I'm hardworking, dedicated, goal-oriented, and responsible – and I am – but they would also say that I enjoy people with a great sense of humour and that I love to laugh. Having been trained as a fashion designer and having had my own line before being at TFI, I appreciate and understand how difficult it is to launch and sustain a fashion business and what it takes to be an entrepreneur. This understanding has given me insight into what Canadian designers need to succeed. It has always been the catalyst for many of the products and programs we have at TFI, such as our mentoring program, lists of contractors and sample makers, and our London Fashion Week export market initiative. If I were to leave my position, I honestly believe that only another fashion entrepreneur would successfully run TFI. Like the experts say to budding authors and screenwriters, "write what you know," in this case, it's "do as you know."
A brief background on the function of TFI:
The Toronto Fashion Incubator (TFI) is an award-winning, non-profit organization that inspires, mentors and educates fashion entrepreneurs about the business of Fashion. TFI is the world's first fashion incubator that's inspired over 30 cities worldwide to adopt its innovative co-sharing concept. Since TFI's launch in 1987, major fashion meccas, including London, Paris, New York, and Milan, have started a fashion incubator.
The role TFI played during the period of COVID, how did TFI stay functional.
TFI occupies a 5,800 sq. ft. facility at Exhibition Place, in a city-owned building. When mandatory lockdown began in March 2020, TFI worked with the City and ExPlace to implement a health and safety plan for everyone to follow. Only the onsite businesses working within TFI producing PPE were allowed to remain open, and all of their workers were required to check-in and out with ExPlace security daily. Our team continued to work from home– we developed webinars, applied for grants and made plans for 2021. Lockdown didn't allow other members into the TFI space, which resulted in a sharp decline in membership fees. From March to July, our revenue dropped 70 percent compared to the same period last year. Going back to work at the end of lockdown following the COVID screening protocol helped our membership numbers to rebound, but now that we're back in lockdown, it's difficult to predict how the second wave will affect us.

What is TFI excited about right now?
In July 2020, we surveyed our 8,000 email subscribers to find out more about who they are and what they're looking for from TFI. We were excited to share our findings–more than 80 percent of our followers constituted women-led businesses where over 30 percent had been in business ten years or more. A little over 20 percent self-identified as BIPOC and 15 percent LGBTQ2S. It was good to see that the established companies wanted to be a part of TFI and provide more services and programs. Almost everyone said that online/ digital services were vital to them.
Looking forward to 2021, we're excited about embracing change and doing a better job of meeting our clients' needs as we plan for a new direction and strategy for our non-profit.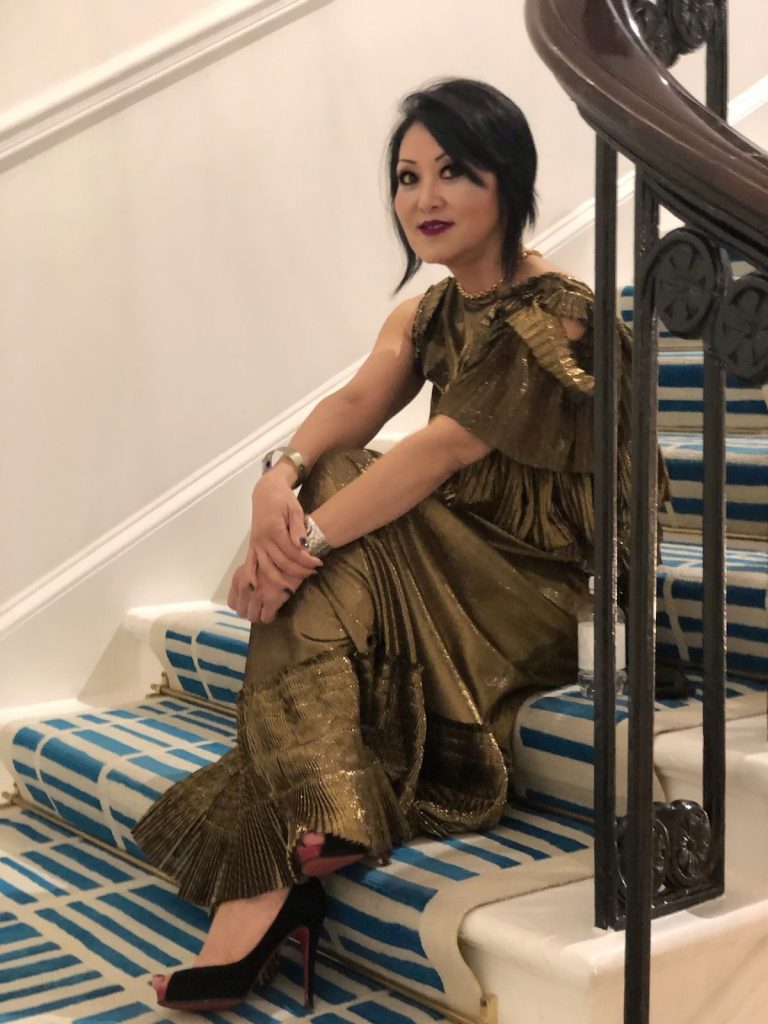 What new initiatives can we expect from TFI in 2021?
Digital B2B wholesale showroom–an TFI initiative developed in collaboration with the High Commission of Canada in the United Kingdom, Global Affairs Canada, Department of Canadian Heritage and the Canadian Apparel Federation. In February 2021, TFI is launching Showroom Canada, a digital B2B wholesale showroom, to help Canadian fashion brands accelerate their sales during these challenging times. Eleven apparel and accessory brands from Manitoba, Ontario, Quebec and Nova Scotia, with a strong focus on sustainable materials and innovative design, were selected by an industry expert's independent panel. Showroom Canada marks an exciting new initiative for Canada's fashion industry, bringing world-class Fashion to a global audience of 200,000 retailers. We will feature the digital showroom on JOOR, one of the industry's leading B2B wholesale platforms.

You work closely with emerging designers and fashion brands; how do you think emerging talent can find a path to economic recovery post-Covid-19 pandemic?
Going back to the basic 4 Ps of marketing is always a good idea: Product, Price, Place and Promotion.
Product: What are consumers buying now? Since there's no need for evening gowns, can you pivot and create elegant blouses instead? What about creating a line of stunning shawls that can be worn both inside and out?
As a side note, this reminds me of an experience back when I was an evening wear designer. On a trip to Paris, I noticed how chic the women looked with shawls draped around their shoulders and over jackets. I took inspiration and made myself a black, wool-lace shawl with 6″ fringe around the edges and wore it on my following trip to New York. From the moment I landed at LaGuardia, my shawl was a hit, and it even caught the eye of an accessory buyer at Bergdorf Goodman who ordered 75 pieces on the spot! So you never know what can happen when you keep your fingers on the pulse and respond quickly to consumer demand. Consumers are also interested in supporting ethical and sustainable brands. What can a designer do to make their products more ethical? Think about the production process and the after-life of a garment.
Price: Many people have lost their jobs or are on wage subsidy support, so disposable income is down. Therefore, if you've typically been selling high-priced items, can you develop new products in your signature esthetic style that are less expensive? Place: What has a broad customer base that gets a lot of traffic? Selling digitally is more important than ever as there's been a huge uptake in e-commerce sales due to everyone working from home. Now is the time to set up a business Instagram account, set up a Shopify site or join an online selling platform. Promotion: Once you've chosen where to sell online, it's essential to let your target audience know where to find it and drive traffic there. Social media is excellent for this as well as placing online ads.
How is the fashion industry changing right now–in Toronto and globally?
The industry news site, Fibre2Fashion, predicts that it will take two years for the global fashion industry to recover from the downturn in sales caused by the pandemic. Fashion brands need to plan for a long term recovery and start developing a new, more resilient business model now. Consumers have changed their spending habits, so the industry needs to respond accordingly, whether becoming more ethical, more sustainable, more affordable or all three.
In what ways has your interaction with Fashion changed?
I've been lucky and worked full-time throughout the pandemic, so my income wasn't affected, yet I still found myself contemplating "buyer's remorse." I'd look at my closet filled with beautiful clothes and accessories and found myself saying, "Love it, couldn't wear it" (laugh!). I think I've bought only a handful of new things since March, with the hope that I will wear them soon.
Talk about opportunities in Fashion?
In general, the world is going digital, and the fashion industry will need to keep up, which opens up exciting opportunities in careers and technology. Plus, with many overseas production facilities in lockdown, there's an opportunity for local production and manufacturing to rebound, and that will create local jobs.
What old practices do you feel the industry must move away from?
Who would have guessed that we would see the demise of hard copy magazines and newspapers, land lines, typewriters, and fax machines in our lifetime? What stood the test of time for decades and generations have lost ground due to the internet and advances in technology. In Fashion, things that we thought would be around forever–in-person fashion shows, trade shows, fashion weeks– have already lost relevance and are evolving to a digital format. We can't get stuck on traditions or how things used to be done, but what we "can" hold onto are our ethics of hard work, authenticity and taking responsibility for our actions.

What will be the future, the way forward to a more resilient, conscious, and sustainable future for the Fashion industry?
I wish I had a crystal ball and could see into the future to have the perfect answer to this question, but I don't. What I do know is that the pandemic proved that things could change in a second, on a global scale. The pandemic has allowed us to look back, reflect and change for the better. We can't go back to the way we manufactured, the way we consumed, how we disposed of discarded Fashion or the way we did business. We can't continue to abuse labourers in under-developed nations, and we can't continue to abuse Earth's natural resources. We have a chance to become more responsible, more resilient and more sustainable, but it will take all of us working towards these goals to make a difference. ■