Fashion Designer Shelli Oh
talks
about what inspires the narratives of her Fashion.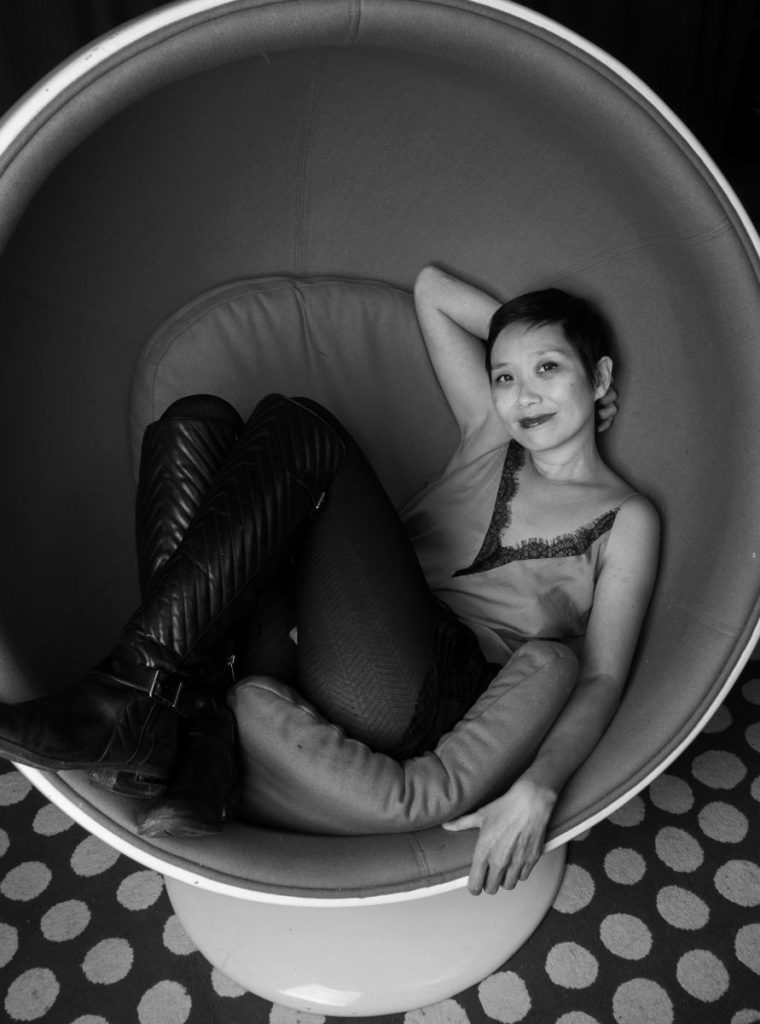 Shelli Oh photographed by Mondo Lulu.
Fashion Designer Shelli Oh talks to FORWARD about how her passion for fashion emerged, from where she draws her inspiration and how she helps women and children live free from domestic abuse one design at a time.
Indonesian – Canadian Fashion Designer Shelli Oh's creative eye, elegant perspective and intuitive design, characterized by rich, unique, meticulous details, make her any fashion lover's best friend, men and women alike.
Oh's luxury womenswear and menswear collections are infused with a refreshingly unique vitality and vision, with a signature focus on distinctive details, unique textures and stylish charm.
Shelli Oh womenswear is defined by ethereal femininity and meticulous hand-sewn detailing that create elaborate tactile landscapes, engaging the senses to evoke an emotional connection and elevate the pieces beyond luxury. Rich with unique signature details characterized by an unconventional medley of traditional tailoring with a whimsical twist and a true dapper arthouse dandy air is what defines her Menswear.
Her design mastery comes from making clothing since she was only 16 years old, her creative outlet. She felt awkward growing up–being the only Asian family in the community made her feel different. As a child, she spent a lot of time on her own with an overactive imagination, living in a vivid world inside her head. "Fashion became my way of expressing myself without having to use my words," Oh said. As she grew older, creating looks and pieces to wear became her voice– she was able to share who she was with the world.
She would put together mini collections just for fun, even years before she ever thought of it as a career opportunity. Later, she attended Ryerson University, made patterns at Betsey Johnson in New York before moving back to Toronto to start her brand.
"I love what I do. I found myself." Shelli Oh
Shelli Oh collections are her way of telling her personal stories and on how she finds her inspiration in those little things in her life that bring her joy.

She finds her inspiration in a variety of places–it is often music, dance and film. French new wave film and UK indie music /mod culture have been a big inspiration for her Menswear, and the magic of ballet and nature are muses for her womenswear. "It is the little things that bring me joy in my life that inspires me the most," she says. Her creative process generally starts with texture. She defines womenswear collections by creating what she likes to call 'tactile landscapes'– by combining hand-sewn detailing and a combination of textures to invoke an emotional connection with the pieces by appealing to the senses. Oh explained, "It's not just something to wear, but it becomes an experience." It's a similar goal with Menswear, but the vehicle becomes more about combinations of patterns, textures, colours and signature details.
Shelli Oh is a storyteller, and design is her choice of words– her stories, emotions and beliefs are communicated by manipulating fabric and patterns, colours, and embellishments. She says that she is always looking for new ways to convey her ideas –"so I am constantly looking for new methods, innovations in fabric and sustainability because without innovation, you start to tell the same stories again and again."
Her continued Innovation breathes new life into her collections year after year, at the same time still keeping true to herself and her brand. Further, Shelli Oh's appeals to a particular clientele have allowed the brand to remain true to her vision and voice while also without failing to be commercially appealing. Having been in the clothing design craft for over two decades, she knows when and how to tame her imagination where necessary. Her instinctual balance to tone things down and look at the pieces from an objective viewpoint has kept her creations relevant in the market.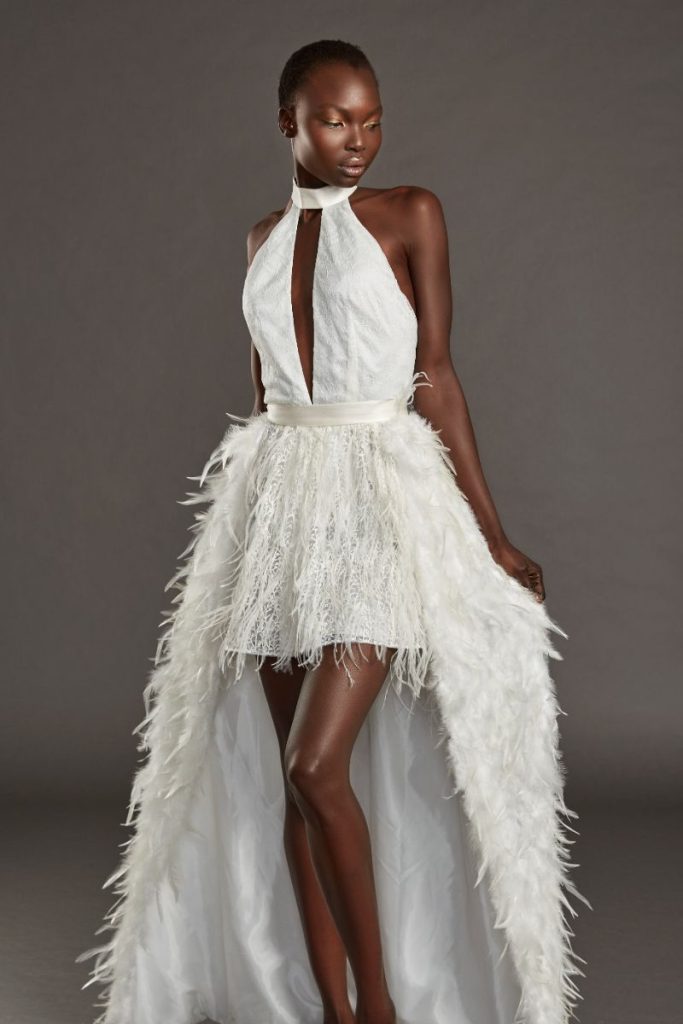 Photography Blake Morrow | Model Willow, plutino models | Makeup Alanna Fennel
What is it about Shelli Oh's design aesthetics that make her collections every fashion lover's darling?
How does her approach differ when designing Menswear compared to womenswear? We had the opportunity to explore more about what inspires her womenswear and how they differ from Menswear.
Womenswear is very ethereal, delicate and feminine, with an elegance that offers women a quiet strength and power of glamour. In comparison, Menswear is very gentlemanly chic with a whimsical edge. They are both designed to make the wearer smile and feel their inner light.
"My womenswear collections and menswear collections express completely different sides of me. The dreamy and ethereal womenswear brings out my romantic aspirations- the things that make me dream and inspire me. Whereas Menswear is reflective of who I am on an everyday basis – the things that make me happy in my everyday life," she shared.
Even though they come from different places inside her and approach them differently when creating, they are both her–her stories.
"While every season's collection tells its own unique and individual story, under the surface lies an undercurrent of universal muses that are at the heart of the quintessential feminine charm of all her women's collections; it is the fusion of these inspirational elements that forges the line's signature look from season to season: Early childhood fascinations with Celtic folklore and visions of ethereal realms.The lines' distinctive tactile landscapes are fashioned with an ardent passion for delicate textures and extraordinary surface details. The subtle hint of 1920s flair and panache, and an unquenchable aesthetic appetite for the fervent, explosive creative atmosphere of the early twentieth-century Paris. The inherent beauty, strength and movement of the ballet.The quirky elegance of french film icon Audrey Tautou and the effortlessly edgy charisma of french new wave film legend Anna Karina both reverberate a 'Joie de Vivre that inspires the element of whimsy." explains Oh in a detailed interpretation of where she draws her inspiration for women's collections.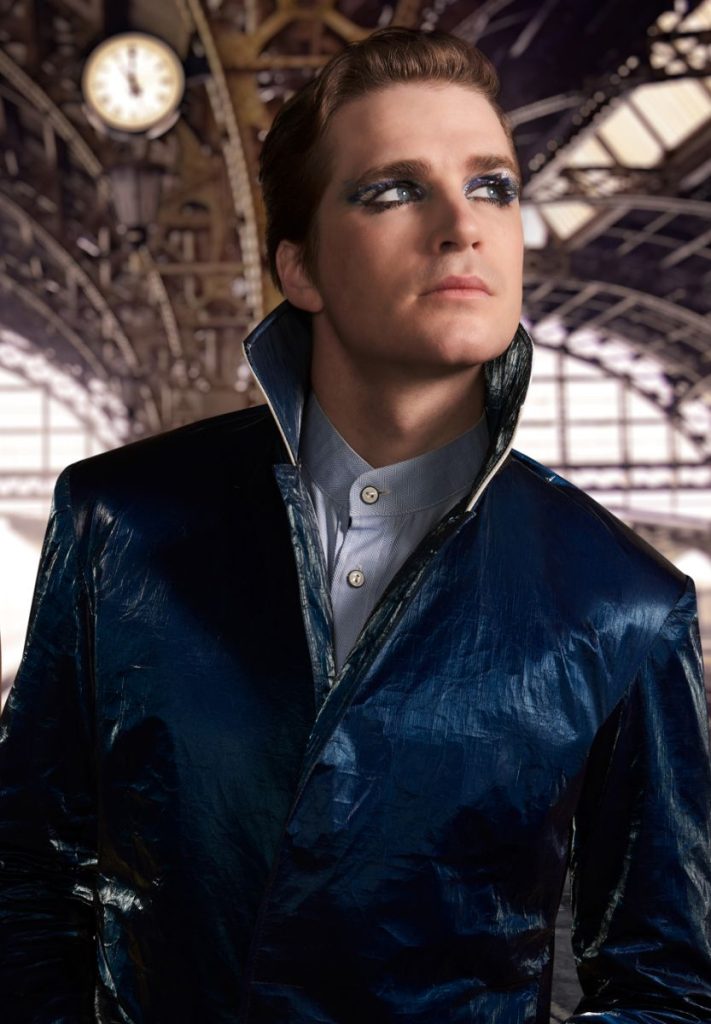 Photography Blake Morrow | Model Harrison James, principal dancer for the national ballet of Canada | Makeup Alanna Fennel
"The menswear collections tell a far less esoteric story, straddling the line somewhere between raw beat generation poetry, rock & roll and an almost arthouse dandy air; this unconventional charismatic medley is at the very root of the collection's success and popularity amongst musicians and artists alike. In juxtaposition with each season's inspirational theme, there are fixed inspirational undertones that give Menswear its unique chemistry:
My musical influences play an indelible role in the vision of the menswear collections, adding an exposed raw vitality and offbeat style to the line.
The natural, unabashed panache of french new wave film icons Jean-Paul Belmondo and Jean-Pierre Léaud resonates with an unapologetically dishevelled sophistication.
The spontaneous creativity of the beat generation and its revolutionary spirit inspires a celebration of raw authenticity that permeates through the collections with a poetic refinement and nostalgic feel.My overwhelming passion for vintage Italian scooters and cafe racer motorcycles trigger clever hints of the classic style of the 'mods and rockers' subculture, expressed in clever infusions of both the sharp, polished dandy 'mod' sensibility and the slick rockabilly undercurrent of the rocker scene."
"My musical influences play an indelible role in the vision of the menswear collections, adding an exposed raw vitality and offbeat style to the line."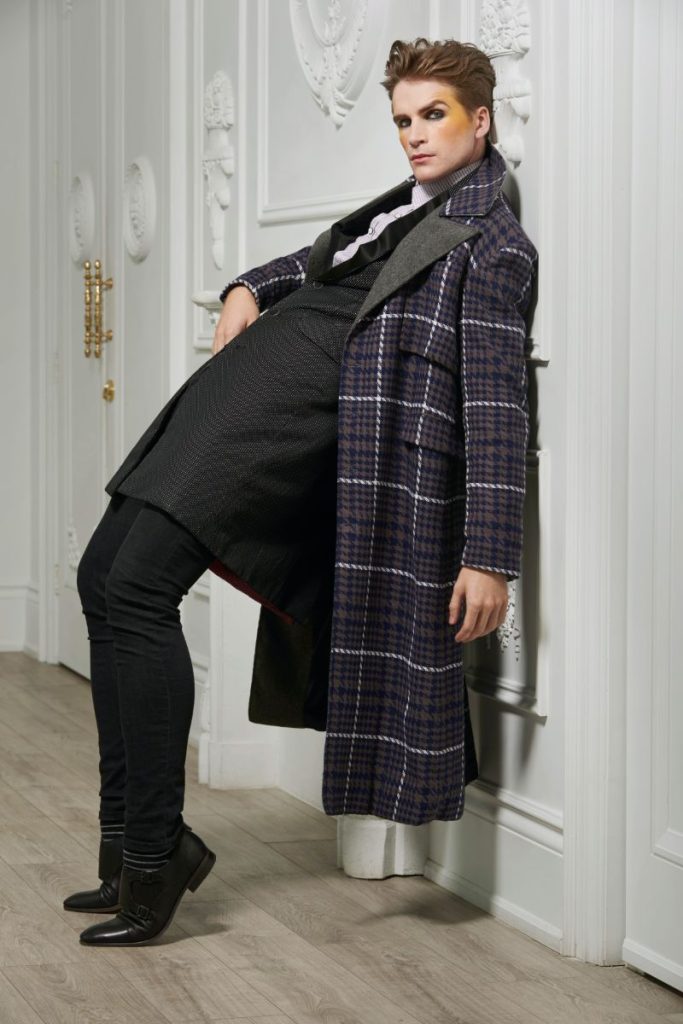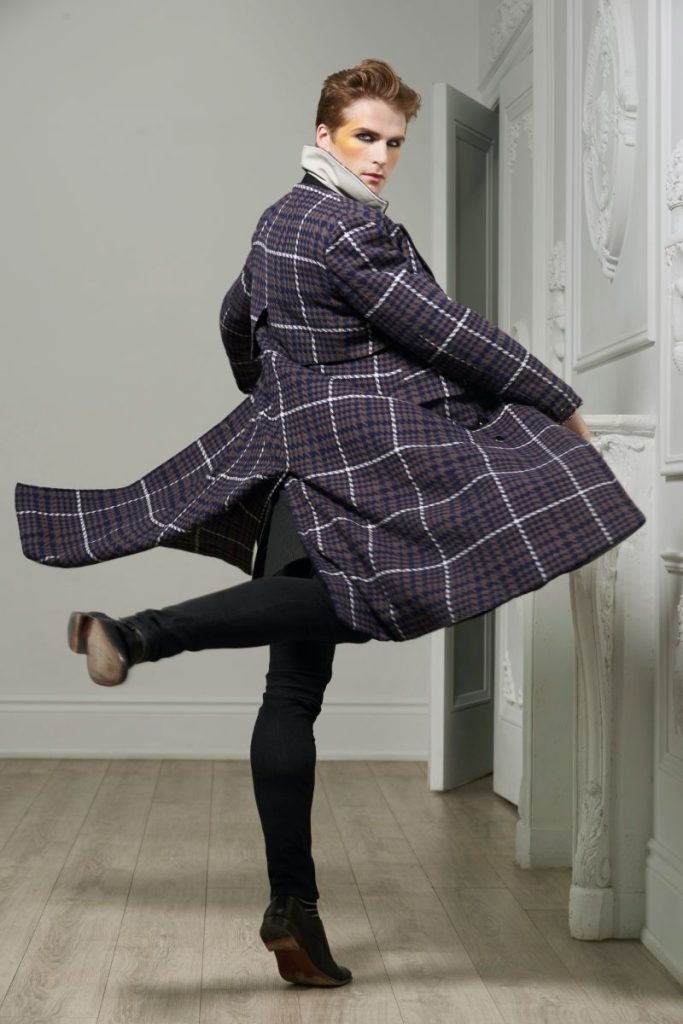 Photography Blake Morrow | Model Harrison James, principal dancer for the national ballet of Canada | Makeup Alanna Fennel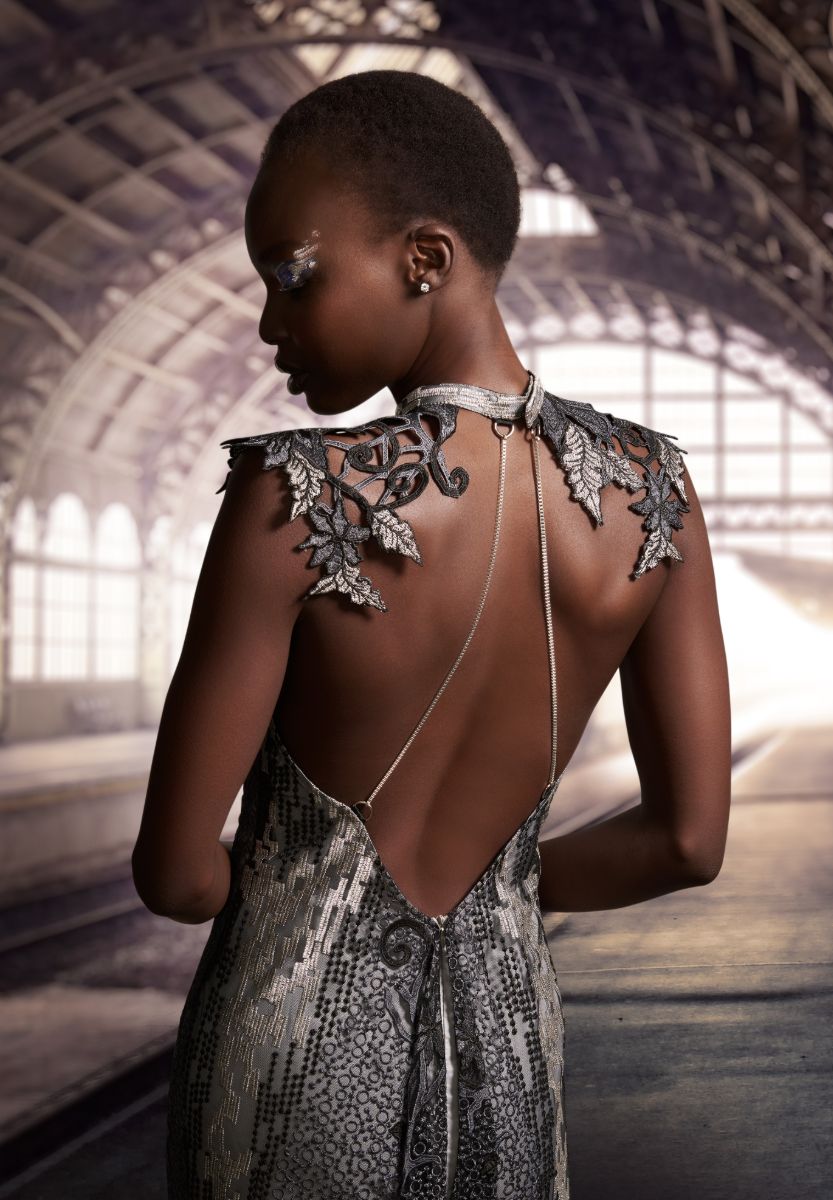 Photography Blake Morrow | Model Willow, plutino models | Makeup Alanna Fennel
Clothing men and women are not her only passion. Throughout her career, she has focused on giving back. She feels it is her responsibility to raise funds and awareness for the causes close to her heart. As a survivor of domestic violence herself, Oh devotes much of her philanthropic endeavours to raising funds, love and awareness for The Redwood Toronto. The Redwood Toronto is a local non-profit that works tirelessly to help women and children live free from domestic abuse. They provide a haven for those seeking refuge to escape and facilitate a comprehensive series of programs and resources to help rebuild lives in the aftermath, which according to Oh, speaking from her own experience, can be brutally hard. She goes back in time to when she was the one going through with domestic violence– "I had no idea that such an organization existed, so I went through the process alone, and it took so many years–years of steps forward and steps back, failing and doubting and then trying again. I was broken. It wasn't just about rebuilding my life, but it was also about rebuilding myself." She will do whatever she can in her capacity to support the Redwood. She regards them as a vital and essential rescue, friend and comfort to the lives of the women and children towards growth and rebuilding away from domestic violence.
Both an iconic fashion designer and a humanitarian at heart, Oh has made some incredible contributions to the community. For instance, she manufactured PPE items early on in the pandemic– for the first half, she created and donated masks for essential workers, volunteers and those at risk. Then she started what she called the 'fashion mask series' to raise money for her favourite local charity– The Redwood Toronto, as well as help fund the continued production and donating of masks for those in need.
The fashion mask series was a success, plus it was important creatively as it inspired her to create fanciful, beautiful and fun masks (unlike the regular three-layer masks, which were strictly for function). She took her inspiration further to create unique, one-of-a-kind creative masks for yet another charitable event called 'Designing Minds.'
Her initiative to pivot and make the best out of a situation when the COVID-19 pandemic blindsided the whole world speaks about who she is as a creator. She is an individual who knows how to find inspiration and joy in simple everyday life– those seemingly insignificant little moments that might go unnoticed.
Oh takes that inspiration into her collection and experiences more joy from the creative process. "I am very passionate about all the handwork and detailing that goes into my creations, and I want people to feel that joy when wearing my pieces. Having someone wear one of my pieces and see their face light up is what motivates me to continue doing what I do. It's infectious!" Shelli Oh.∎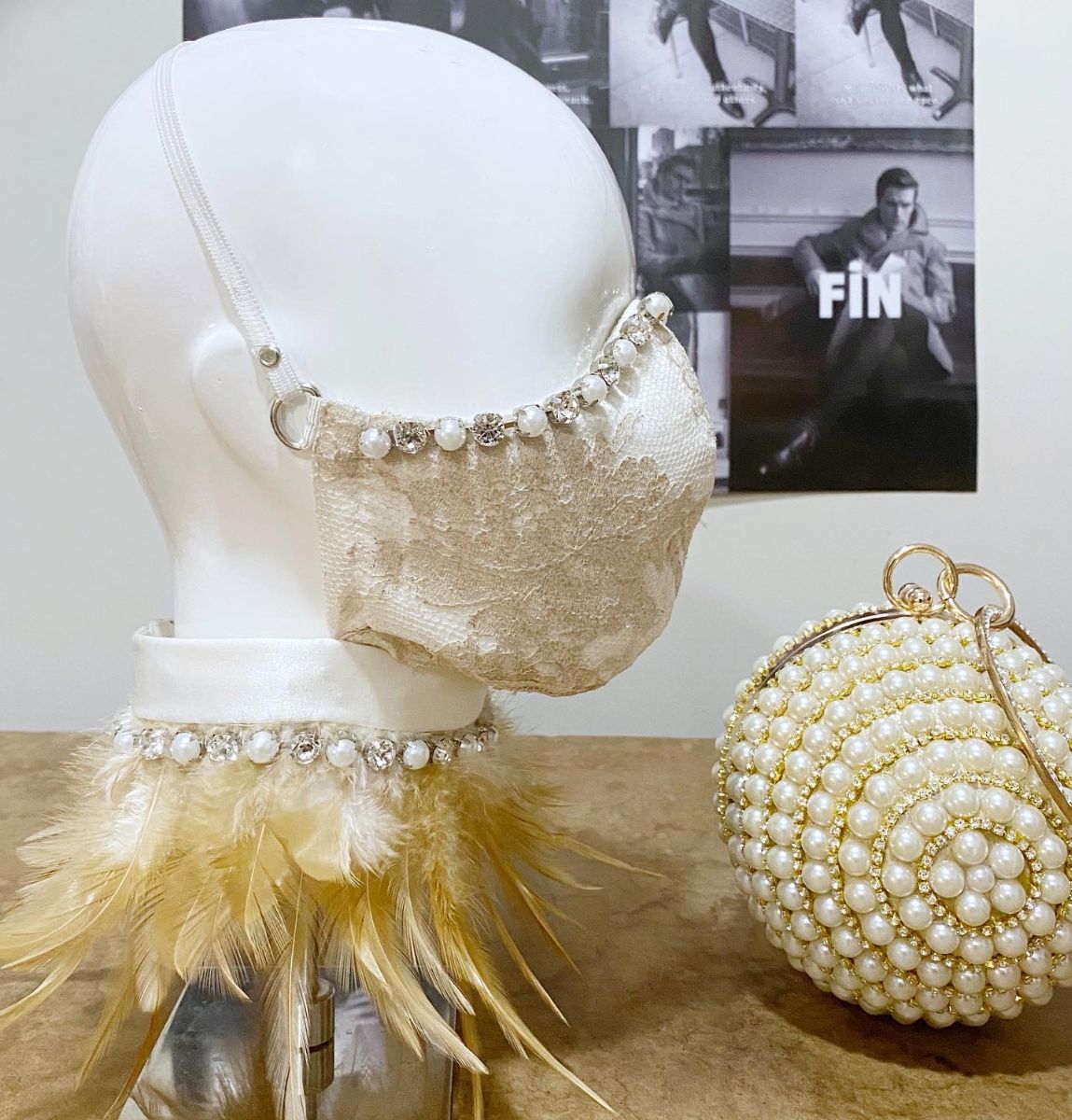 Image Courtesy of Shelli Oh