SAINT cosmetics' Joanna Montesano on how she built a 'Clean Beauty Brand with Luxury Performance.'
Get some exclusive insights from Joanna Montesano, the woman behind the success of SAINT cosmetics.

SAINT cosmetics is a passion brand created by Joanna Montesano in 2014, inspired by the knowledge she gleaned from her upbringing and through her journey of embracing cleaner products to address her demanding skincare requirements.
The holistic approach to beauty– treating the internal and external body as one connected part–is the only way she knows beauty. She grew up with a grandmother who taught her the beautiful and essential ritual of self-care, self-nurturing and healing oneself with ingredients straight from Mother Earth, using plants and natural ingredients to improve skin and boost health. By combining all these powerful lessons, Montesano created a beauty experience without compromising health or product performance while ensuring it is compatible with even the most sensitive skin.
"SAINT cosmetics is a leaping bunny certified clean makeup line made with antioxidant, high performing skincare ingredients and Ecocert minerals that transform skin for flawless results."
Here, we caught up with Joanna Montesano to talk about what constitutes a clean beauty when no regulations or legal definitions are surrounding the term, how awareness of clean beauty has changed over the years, and more.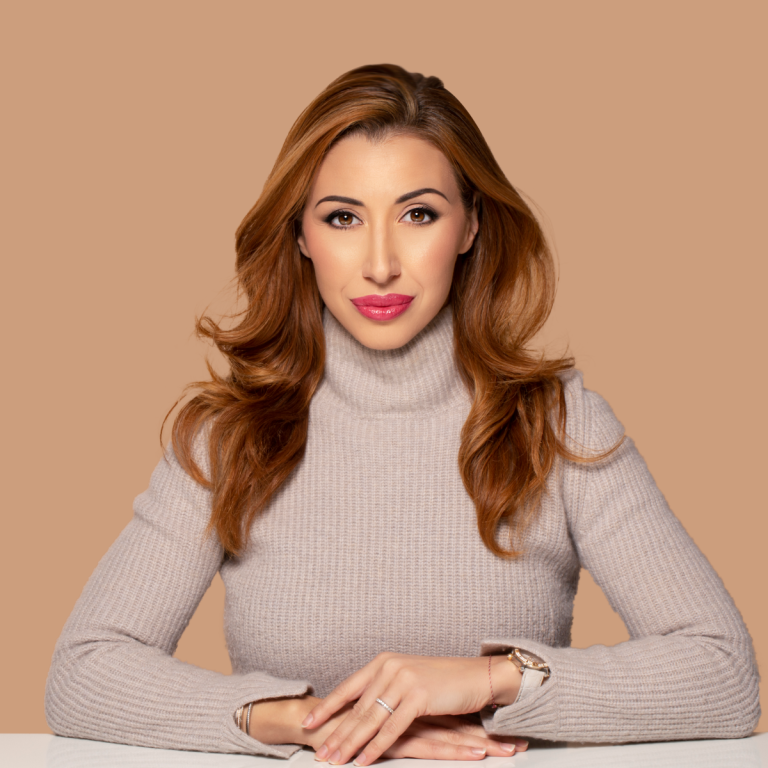 Beauty is continually evolving and changing–what constitutes beauty now isn't what beauty was a year ago. Today beauty to women is about enhancing a natural look and focusing more on their inner selves.
For me, beauty means loving yourself for who you are, feeling comfortable in your skin and appreciating your imperfections. My makeup line is just another way of enhancing your beauty to feel more confident and good about yourself.
What constitutes a 'clean' beauty product?
Clean beauty means that a product should be safe from potentially toxic ingredients, have more sustainable options, should be high performing and long-wearing, without compromising your health or the health of your skin.
Beauty has very little to do with looks, comment?
Beauty is a mindset. At Saint, we believe that every woman deserves to look and feel her best outside and inside. The way you think inside manifests on the outside, and our gorgeous makeup is just an all-natural way to enhance the love and beauty reflected from within.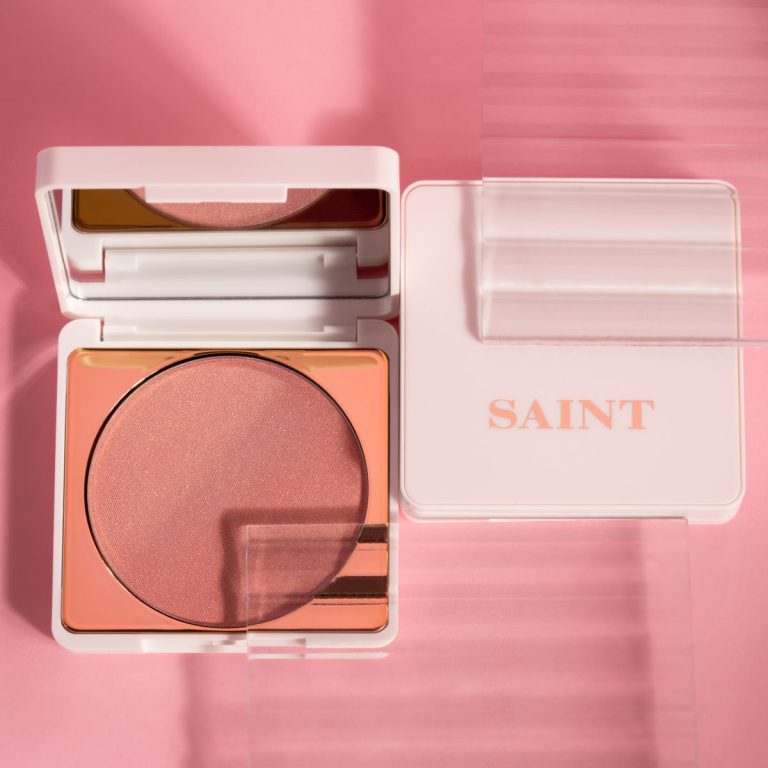 What's the story behind the name SAINT cosmetics?
When you think of the name Saint, words like clean, pure, and high standards come to mind. Growing up in Albania, my life was influenced and inspired by my grandmother, a very strong, loving, and independent woman, who lived her life in complete devotion to her family and community. She set out a beautiful example for everyone around her, and that was where the inspiration for the name Saint Cosmetics came.
There are so many beauty brands and retailers on the market right now. What's different about SAINT cosmetics that sets it apart?
As the founder of Saint Cosmetics, I committed to never compromising our raw materials, formulas, product performance, and sustainability when I started the brand. The raw materials in our formulas are sourced from North America using Ecocert Certified ingredients and suppliers. We use ingredients that set us apart from other brands and consider them just as important as the product's performance and packaging. We love and respect our planet, and we try to be environmentally accountable as much as possible. We partner with organic farms that use sustainable methods and packaging responsibly. We make our packaging with FS certified paper from well-managed forests, ink-based on naturally renewable raw materials.
What defines the standards of SAINT cosmetics?
When we talk about using cleaner ingredients, we aren't playing around. We are completely transparent and have nothing to hide; you deserve to know every ingredient you will be putting onto your skin!
We wanted to create high-performance, quality makeup that ranks on the high end of the scale without any of the toxic ingredients common in conventional big-name products.
Each ingredient added to SAINT products is carefully reviewed for efficacy and specific advantages to offer our unique skincare makeup formulas. You'll indulge in a luxury colour cosmetic experience designed to provide the exceptional performance along with powerful anti-ageing, antioxidant, hydrating, toning and complexion brightening benefits.
Our products are cruelty-free and free from parabens, sulphates, silicone, mineral oil, artificial preservatives, synthetic fragrances and much more.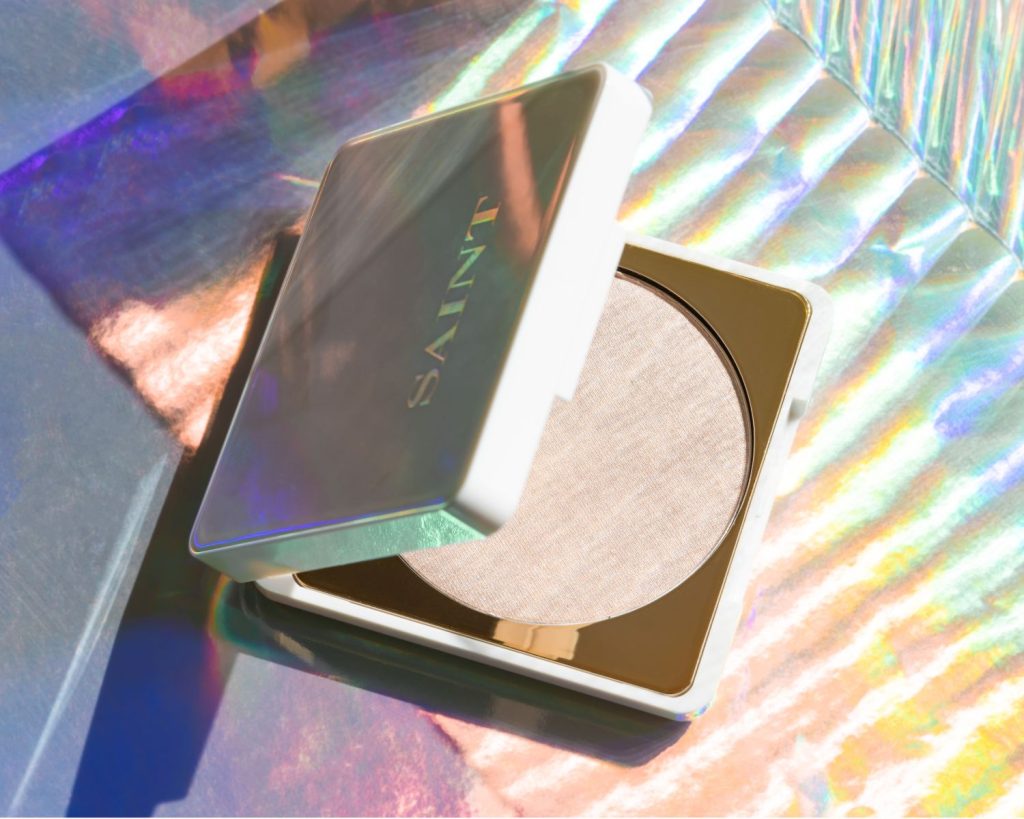 What is the key ingredient of SAINT cosmetics?
Our formulas are a blend of unique ingredients such as Kakadu Plum, Rosehip Oil, Olive Oil, to name a few. I'll get into a few of them below:
Kakadu Plum is the highest plant source of Vitamin C on the planet!
Anti-inflammatory benefits make it a winner for acne and sensitive-skinned individuals like myself. Simultaneously, its collagen-boosting properties make it a hit with women over 25 ( the ageing collagen starts to decline year after year drastically. It infuses the skin with antioxidants to fight off ageing free radicals and is possibly one of the most stable forms of Vitamin C.
Rosehip Oil is bursting with essential fatty acids and antioxidants that can completely transform your skin's look and feel. It repairs and regenerates damaged skin tissue thanks to its unique topical Vitamin A benefits while fighting inflammation and plumping the skin. This one is an absolute must in our skincare makeup formulations!
Olive Oil is another of our top favourite oils! This antioxidant and essential fatty acid-rich oil are gentle enough for sensitive and oily skin, yet powerful enough to protect against free radicals and infuse the skin with a deep dose of moisture for smooth and plumped with a refined, youthful appearance.
When you use our products on your skin, you can rest assured that you are applying non-toxic makeup formulations with 100% natural, high-performing and plant-based ingredients that double up as skincare.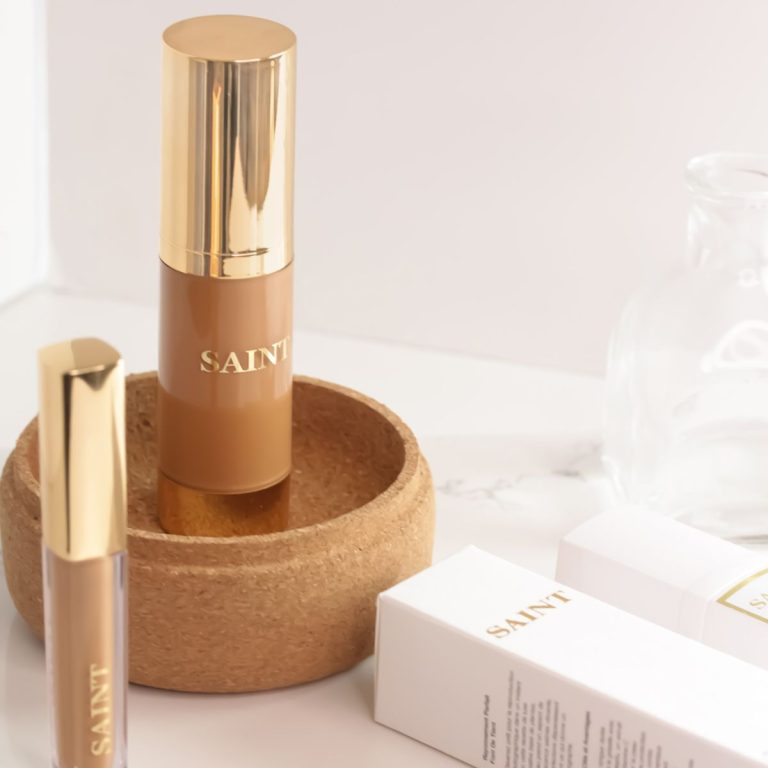 How is 'non-toxic' cosmetic different from 'natural' cosmetics?
'Natural' makeup is (generally referred to) makeup with more than 70 percent of natural sources ingredients. There are no synthetic ingredients or preservatives in natural cosmetics. 'Non-toxic' makeup usually refers to cosmetics that may contain synthetic ingredients, but they have not been linked to toxic responses from the body or skin in humans. I would say that the most significant difference between 'non-toxic' and 'natural' would be the use of safe synthetic ingredients.
How can you define clean beauty when no regulations or legal definition are surrounding the term?
Everyone's definition of clean beauty is different and always evolving.
For us at Saint Cosmetics, what Clean Beauty means is a safe product, does not include any toxic ingredients, works with your skin and not against it, and has transparent labelling of ingredients.
How can you define clean beauty when no regulations or legal definition are surrounding the term?
Everyone's definition of clean beauty is different and always evolving. For us at Saint Cosmetics, what Clean Beauty means is a safe product, does not include any toxic ingredients, works with your skin and not against it, and has transparent labelling of ingredients.
Clean beauty has become more prevalent in recent years. What does it mean today?
From my personal experience, I became more aware of safer, cleaner products when I developed sensitivities and started reacting to chemicals used in everyday life. Since I have switched to cleaner products, be it skincare, makeup, body lotions or hair care, I have noticed my skin and hair feel and look so much better! In recent years, I have noticed that more people I connect with are starting to become more sensitive and reactive to chemicals and looking for safer, more natural options, not just in makeup but in all aspects of life. Clean beauty is the fastest-growing segment of beauty right now. People are educating themselves more and more about what they're using and looking for better options. Clean beauty has become a revolution that started at the grassroots level by women entrepreneurs. I am excited to be part of this movement and passionate about bringing the very best to the clean beauty world.
Three words to describe SAINT cosmetics:
Clean Ingredients
Luxury Performance
Always Cruelty-Free
For those new to SAINT cosmetics, can you suggest three of your favourite products?
Flawless Radiance Skincare Foundation
Velvet Lip Crème in Paris
Radiance Finish Blush in Pink Sunset
Way Forward for SAINT cosmetics?
Saint Cosmetics is a clean luxury cosmetics line that every woman deserves to have and experience. We are always developing new products and ideas and excited about some new launches early next year.
During this challenging time, our business model is adapting like everyone else. We are focusing on growing our online presence through a more robust digital strategy to bring more exposure and awareness to our brand.
We also just launched a new Beauty Consultant Program to offer more opportunities to be a part of our company and let women experience our products firsthand on a more personal level. We created this program to help women achieve their dreams, both personally and professionally.
Our two cents worth on SAINT Cosmetics
" Let's start with the packaging, products enrobed in a white casing with gold accents and trims–nothing says sophistication and elegance like the white and gold colour scheme.
And the makeup itself, I love how it feels on my skin–as soft as cashmere– and goes light and just right to enhance my natural skin. The velvet lip colour leaves my lips creamy and luscious!
My final thought on SAINT Cosmetics? Give me more! "
Ugyen Wangmo, CEO/EIC FORWARDFashion