One size doesn't fit all:
SMITHERY takes the old-school concept of dressing for your body shape into the modern day of online shopping.
In an era where clothing is flooded with an array of sizes– sizing has become arbitrary, and the fit is a problem in modern fashion. When we can't find clothes that fit, let alone clothes we like, it can be infuriating. Universal size seems like an appealing solution to our need for finding the perfect fit. But standardized sizes make it harder to buy clothes by limiting the shapes and dimensions available, given the varying measurements and proportions of the human body. To help us navigate the existing size variation, it is SMITHERY to the rescue. An online boutique curated on the understanding that –women are all differently built even if they share the same dress size. FORWARD chats with the founder, the Chief Stylesmith Of Smithery, Mavis Huntley.
On how Smithery started:
Smithery is an online boutique that celebrates women's unique and beautiful bodies! Our goal is to make shopping easy and FUN by helping women shop their shape. We curate the most flattering cuts for each body shape, share tips and tricks on how to dress for your shape via our website, IG account and host individual and group online style sessions.
I started my career working in advertising, leading a department of 25 plus people at one of the top agencies in Canada. However, every day I didn't feel confident and realized it was because I started each day standing in front of my closet, not knowing what to wear. I didn't love shopping (it could be depressing) or have time to shop, and I never wanted to invest in clothes because I was always on the "verge" of losing those extra pounds. After a colleague taking personal stylist courses on the side started giving me tips and tricks on how to dress – my entire day-to-day attitude changed. I thought, there must be more women out there who are in the same boat as me!
Anyone who knows me would laugh that I started a fashion company, but that's precisely why I had to run with the idea of Smithery. I knew there were so many women out there who, like me, were intimidated by the industry.
On the significance of the name Smithery:
A smith is an expert in their craft in the corset era, like a blacksmith or a gunsmith. We think of ourselves as modern-day stylesmith taking the old-school concept of dressing for your body shape into the new world of online shopping.
On how she source and curate its collections:
We take the guesswork out of shopping by curating brands and collections that we know our customers will want in their closets. What does it take for us to carry a brand? We have a set of criteria that we look at: Canadian, Not found in department stores, Quality pieces that stand the test of time, Elevated basics, ninety percent of the collection is under $150, Pieces that we would want in our closet, and must go to size XL at the least.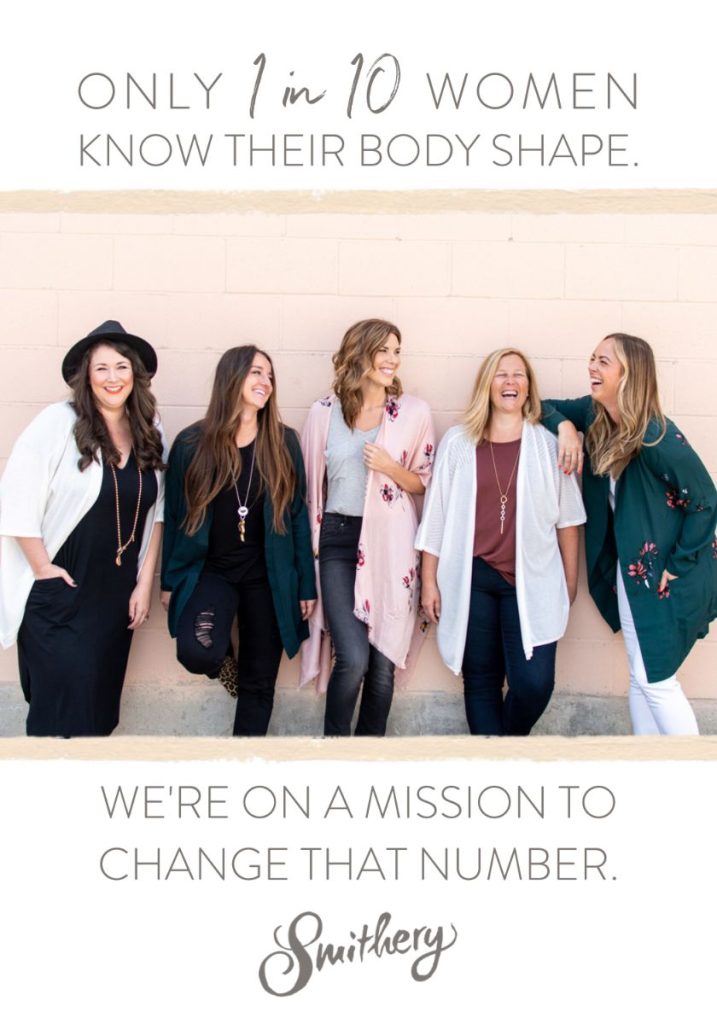 On the values and DNA on which she built the brand:
The idea of Smithery was to help women feel confident, and I know from experience how finding the right clothes that one felt great in is a great confidence booster. We wanted to offer women of every shape and size the feeling that they have found their stylist– a friend who was there to answer and help with any questions they had–and know that they didn't have to change who they were to get that million-dollar feeling.
On the importance to consider one's body shape:
Body shape is the starting point for finding clothes that fit and flatter. But we refuse to call you a fruit, so no more apples and pears at Smithery. We have defined five different body shapes, X, H, A, V, and O–knowing your shape and a few other tips and tricks for dressing for that shape is a game-changer.
Today's clothing recommendation methods take a "one shape fits all" approach. Comment on the negative impacts of these body-agnostic vision methods regarding the inclusion of diverse body shapes.
The whole concept of Smithery is to throw this "one shape fits all" concept out with the trash! (laughs).
I know firsthand how this outlook can affect your whole well-being– the negative impacts of these body-agnostic vision methods regarding the inclusion of diverse body shapes. It is not fair to put that pressure on women, and we hope to reach as many women as possible, so they know that their body shape is just as beautiful.
On how Smithery helps clients' understand their body type:
We offer a couple of different ways to help our clients determine their body shape. We have a Shape Finder on our website that one can use, or they can book an online appointment with a stylist who uses their specific measurements to help figure out the shape. Body type is harder to figure out than one would think, with only one in ten women knowing their body shape.
Body shape is the proportion between your shoulders, natural waist (which is an inch above your belly button) and hips. Booty and bust are the tiebreakers if you are between two shapes.
Smithery's stand on the fashion's problem of online shopping returns stemmed from [wrong] fit:
Shopping from mass brands usually means the customers are scrolling through their site, looking at a piece on a 'model' and GUESSING if it will look good on them. At Smithery, we try to do everything possible to help get the right fit. When shopping the site by body shape–to minimize returns–we curate a collection of clothes that have specific details that flatter while showcasing clothes on real women models. There is a "fit" description in every piece and information on which body shapes work best. We are proud to share that of all the jeans we have sold, the return was less than seven pairs, till date.

Her definition of style:
Anything that you feel comfortable in is style! For Smithery specifically, we define our collections as "Elevated Basics." Pieces you can wear in your everyday life– get the most mileage out of– but with unique details and flattering features.
On how fashion is less of an exhibit of beauty and more an expression of personal values:
Before our online style sessions, we send our customers a short questionnaire that gives us insight into their lifestyle to make recommendations on pieces that will work for THEIR life. For instance, a pencil skirt may be a flattering piece for an X shape, but if that X shape works from home, it would be doubtful they need that in their closet!
We guide our clients into a more meaningful relationship with their wardrobe. We always joke that a lot of our style sessions are like therapy sessions. We want women to LOVE what's in their closet, not just be okay with it. So we like to think we arm them with the tools to do just that.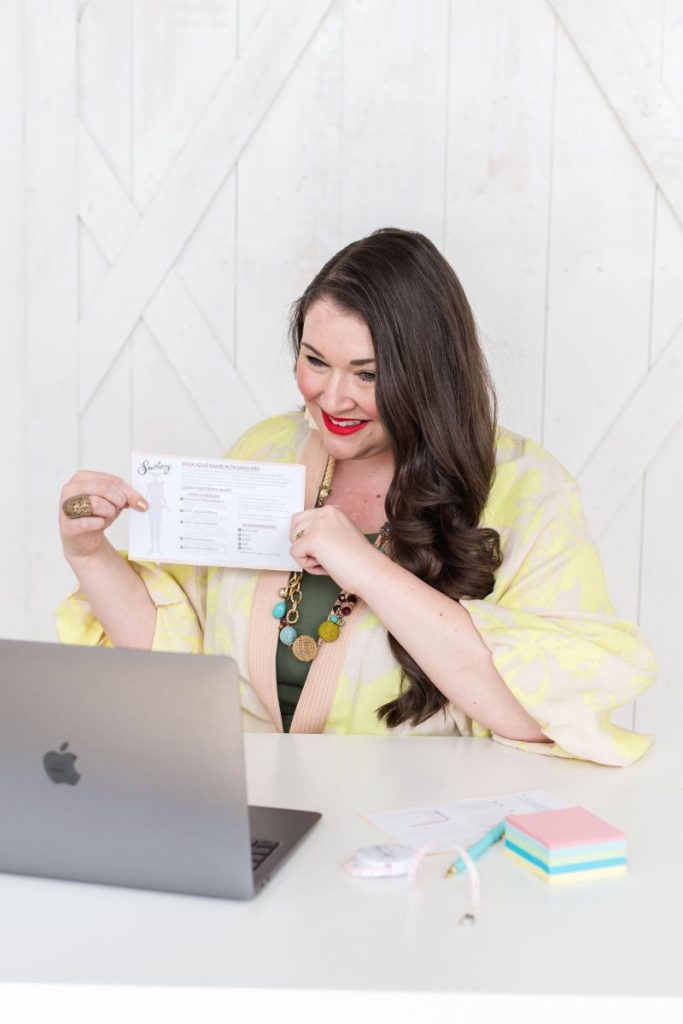 On the connection between style and self-worth:
The premise of our business is on the connection between style and self-worth.
We want women everywhere to feel confident in their skin. Our team of stylists are warm, welcoming, educated on body shape, not intimidating, believes in the concept, and wants to help women feel confident and represent different shapes and sizes.
Every woman should feel worthy of having a wardrobe that makes them feel like a million bucks no matter their budget. Our goal is to arm them with the tools to do that, whether they shop with us or elsewhere.
Her number one style upgrader if the outfit is missing something:
A third piece! Many customers tell us that they go to their closet, put on the same t-shirt and jeans and feel blah. To feel put together, always think about adding a "third piece," whether a moto jacket, long pendant, a scarf, or statement shoes. That will pull whatever looks together.
On her signature style that she always finds flattering:
I'm an A shape, where my bottom half is bigger than my top half with a semi-defined waist, so a personal favourite of mine is a button-up shirt. It flatters my shape; I can dress it up or down, and there are so many variations to work with– denim, a blouse[…].
On her favourite designer:
My favourite inspirational designer is Canadian Hilary MacMillian. At the professional level–she is creative, pro-woman and such a great role model and representative for Canadian women. At the personality level, she is friendly, relatable, and the most down-to-earth human being, and, of course, I'm a big fan of her iconic leather jackets.
Her favourite places to shop or source:
Brands we love at Smithery are Gentle Fawn, Pink Martini, Smash + Tess, and Kut from the Kloth. In terms of where I shop other than Smithery – it's the only three other places; Dotty (a Canadian designer), Knix (the best undergarments for all body shapes and such an inspiration for Smithery) and Aritizia.
Her three style tips to take away with:
Three style tips that are universally flattering on all shapes:
Rouche your sleeves (the eye is drawn to the skin, which helps draw attention); A Circle Hem tee, instead of wearing a t-shirt with a straight hem, find one with a circle hem –this creates a natural waist instead of cutting yourself in half; speaking of cutting yourself in half, try to avoid that. Wear a longer tunic and pants or half-tuck a shirt into jeans, creating a 1/3 to 2/3 proportion.∎