Meet
I MISS YOU VINTAGE
|
Toronto's most coveted luxury designer recycling destination.
We spoke to the veteran of the resale fashion world, I Miss You Vintage founder, Julie Yoo, to talk about everything vintage fashion, from what characterizes secondhand luxury to how Vintage Fashion is taking over and what makes secondhand shopping great.
The last few years have witnessed a growing trend of pre-owned fashion consumption– from it being a great way to state your unique style to it being meaningful–an ethical and sustainable choice, as general awareness for sustainability grows. Our conversations and priorities have shifted towards wearing and utilizing secondhand goods. Even though pre-owned and reworked items have always been here, the buzz around vintage fashion today is more significant than ever. The time of uncertainty has been a catalyst for reflection on the increasing problem of fast, disposable garments and its environmental strain, leading to a change in consumer attitudes.
As people make substantial changes to live more sustainably, and the engagement with resale is hitting an all-time high, FORWARD is proud to spotlight I Miss You Vintage.
Founded by Julie Yoo, I Miss You Vintage is a luxury designer resale boutique that has been catering to savvy fashion conscious buyers and consignors for over 15 years.
Julie Yoo specializes in identification, authentication, and appraisal of 21st-century vintage couture and contemporary luxury designer label resale. She brings over 20 years of industry experience to her business, guaranteeing that buyers can shop with confidence.
The boutique's carefully edited collection of gently pre-owned runway label garments, bags, shoes, jewelry, and accessories from past seasons, are resold at a fraction of the original retail price. The store has become a favourite stop for celebrities and designers –from Lady Gaga, Iman, Miley Cyrus to Alexander Wang, Alexander McQueen, Michael Kors, Saint Laurent, and Acne Studios. I Miss You Vintage is committed to conscious commerce and plays a vital part in keeping fashion circular.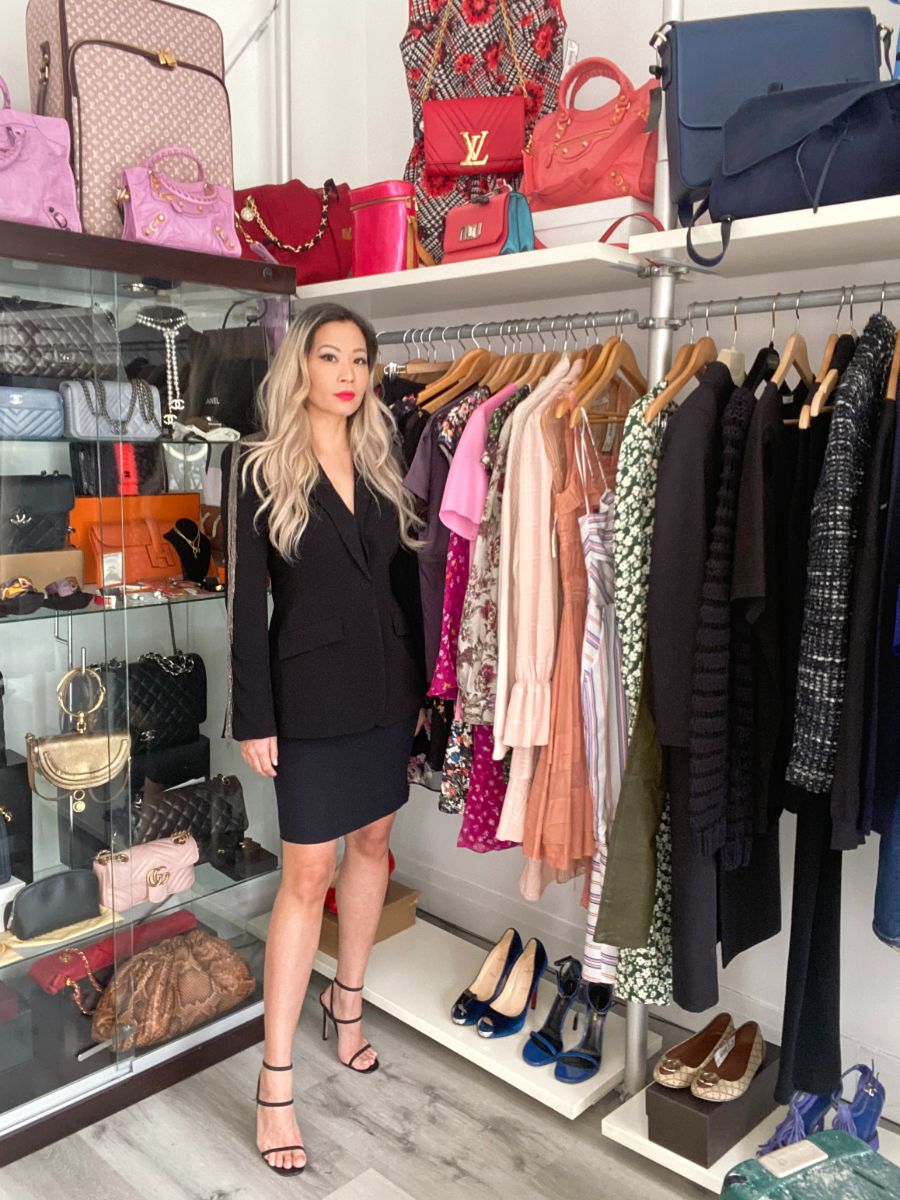 Founder Julie Yoo, I Miss You Vintage
On what inspired I MISS YOU VINTAGE.
I have been selling antique and vintage pre-owned fashion since the late 1990s and have been running a resale fashion business since. I began selling vintage items online and at vintage clothing shows as a hobby while I was in university studying Fine Art History and Museum Studies.
In 2005, I opened my first retail boutique on Ossington avenue. I gave up my 9-5 career in the art museum world to create my own business path, choosing to listen to listen to my inner voice and follow my entrepreneurial spirit and independent drive.
I have always had a passion for fashion and loved using my keen visual sense to pick out the valuable and relevant items from the sea of discarded secondhand goods. When I was young, my mother either made my clothing or took me thrift shopping because we were on a limited budget. It taught me that style is something you can have regardless of the price tag. I was obsessed with the thrill of the hunt, but the history of vintage garments fascinated me more, and I enjoyed being able to curate a hand-picked collection for my customers. A few years into owning my store, I gradually shifted from selling vintage historical period pieces to the contemporary designer label items that we carry today. The change came from a necessity to cater to a more mainstream and less niche audience to support the high overhead of running a brick-and-mortar store. To this day, my love of fashion and fashion history still translates into all parts of my business.
On the significance of the name, I MISS YOU VINTAGE:
When we initially opened, we sold historical vintage or era-specific items from the 1920s to the 1980s. One of the things I love about vintage items is their past and the stories they hold from their previously lived lives. Vintage clothing is both rich with nostalgia and sentimentality. The idea of 'Miss'-ing someone or something also shares that same longing for a bygone era. We now resale 'contemporary items,' but that idea of letting go of your special things to find new homes is still there.
On the motivation for collecting pre-owned luxury:
As a fashion history lover, I love designs and view fashion from a collector's perspective. When you follow and understand fashion history, you know which items will become future vintage and important to the cannon of fashion. The added benefit to collecting fashion is that it is wearable art. My collection of the 1960s and 1970's designer Modernist jewelry features many unique pieces and is also a mini sculpture to wear.
Each vintage/pre-owned luxury store is unique.
The great thing about shopping pre-owned and vintage is that every store has a uniquely different selection, and you can make a day of visiting several shops to score your perfect find. I view our local resale shops as a complementary community of resellers with a varied offering of inventory.
On how to safely shop luxury vintage:
Research to locate and shop with reputable, established businesses and ask questions about their authenticity screening processes and guarantees upfront. Shopping from verified sellers with a long track record gives you the ability to follow up and build relationships should there be any post-sale issues rather than dealing with one-time anonymous sellers. There are many legitimate businesses working hard to invest in the latest authentication tools to stand above the rest.
On the common misconceptions about secondhand clothing shopping:
One of the barriers to shopping secondhand that I have encountered is the stigma associated with buying and wearing "used clothing." However, over the last decade, I've seen a complete turnaround where resale shopping has become mainstream. People used to walk into the shop and immediately ask, "Is everything used? and then frown and walk away." That doesn't happen anymore, and instead, now we even see celebrities and influencers wearing vintage garments to showcase their unique style with curated wardrobes. Also, the sustainable re-commerce movement is a massive driving force in shopping pre-loved and changing how we remedy fashion consumption.
Another barrier to shopping resale is the trust factor and the misconception of getting scammed. There are horror stories about people being deceived by unscrupulous sellers, and I'm sure they are out there. Still, legitimate resale businesses that have been in the industry for years have complex and layered authentication processes in place and spend hundreds of thousands of dollars annually on removing that authenticity barrier.
 On what characterizes secondhand luxury possessions:
Owning and wearing a uniquely sourced vintage item (like a 2003 Dior Galliano limited-edition runway saddle bag) is a way to stand out from a crowd of uniform fashion. It can also display the wearer's knowledge and appreciation of fashion and sourcing savviness, demonstrating their access to rare limited edition finds.
And for those looking to add long-wearing classics to their wardrobe, the primary allure of resale shopping is finding high-end designer items at a fraction of original retail. The off-retail prices have helped to democratize luxury fashion by making it more accessible to those who would not buy at original retail. We have Chanel jackets from only a few seasons ago that originally retailed for $10k+ at 60-75% off retail.
Conscious consumers led to the blossoming of the secondhand market.
With secondhand shopping being more mainstream and women being more thoughtful about what happens to their unwanted garments, the resale industry has seen rapid growth in recent years, surpassing traditional retail. Resale and the circular economy are at the forefront of our minds these days. More women even consider the future resale value of an item before committing to a large purchase. We are more conscious of how our shopping choices can affect the environment and the clothing industry's carbon footprint. So if you can make a sustainable choice while getting a higher quality garment that you will wear more at a fraction of the retail price in gently pre-owned condition, why not?
Social media and consumer awareness have changed the purchase intention of pre-owned fashion.
It's always great when people can become educated about pre-owned fashion and make informed choices before buying. We spend long hours on our phones and computers these days. With increased exposure to social media influencers and fashion bloggers, customers become more knowledgeable about what they are purchasing, giving them more confidence when buying. Fashion blogs and videos also influence purchase intention and enhance the demand for items through social proof. All of that helps create buzz around a particular item, and if shoppers are lucky to find it at an off-retail pre-owned price, even better.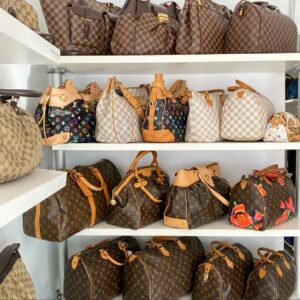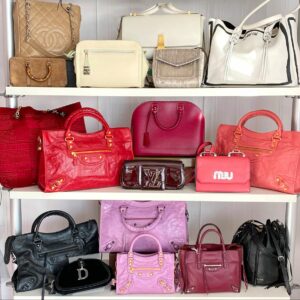 On the importance of digital presence:
Today, more people are shopping online, and ecommerce has seen exponential growth during the Pandemic. We have been selling online since 1998, but now more than ever, stores need to have a digital presence to take advantage of the wider audience reach of online selling. Running a brick-and-mortar shop and selling online are very different and have their pros and cons, but they are complementary and necessary. If you're not online, you are left behind in today's retail world.
Secondhand shopping is great.
Some of the benefits of secondhand shopping include being easier on the wallet with discounts of up to 70% off original retail, being able to source limited edition or out of production items from past seasons, and being able to shop from a more comprehensive offering of goods outside of current seasonal retail offerings. It's also a fun way to uniquely curate your wardrobe while allowing you to have more looks with the same budget. You will also feel great knowing that you are extending the life cycle of an item by rehoming it.
Tips for secondhand shopping virgins:
Shop frequently and often as stock changes daily at resale shops, and sometimes getting the best finds is all about timing. Since shops often only have one of everything, it can be hit or miss if you fall in love with an item that is not your size. But many businesses keep wish lists and work hard to match up new arrivals with their customer list, so it can be worth adding your details. Since items are pre-owned, if they aren't brand new with tags, carefully check the condition and check to see any flaws such as missing buttons, marks, or wear and tear. Most stores pre-check all of their items and don't accept defective items, but it's always best to double-check.
Way forward for I MISS YOU VINTAGE:
We have been working hard to increase our online offerings and digital presence in recent years. Even before Covid happened, I've always considered changing from the chaotic high volume, high overhead, and fast-paced retail bricks and mortar boutique to a pared-down e-commerce/showroom model. The Pandemic unexpectedly allowed us to give this a real-world trial run for over a year with success. After a decade and a half of continuously operating retail and working seven days a week, I'm also looking for a way to recover some balance in my personal life. My priorities are no longer exponential growth or opening another location like I did many times in years past. I've accomplished my initial goals and considering scaling back, or shifting gears doesn't undo the success I've achieved with the business. Instead, as an entrepreneur, it's essential to recognize that it's wise to re-align and modify your business strategy to evolve and grow in new directions as things change. Once again, I'm at the crossroads I found myself 15 years ago when I took the leap to adjust my career path. And perhaps the combination of a post-pandemic retail landscape and the increased demand and success of online channels is the perfect recipe for that.∎
All Images Courtesy of I MISS YOU VINTAGE.