Vanessa Kiraly hopes that Canada will be able to "BLOOM" once more and that life will return to normal.
Inspired by the colour of life in spring VANIKA by Vanessa Kiraly redesigned hospital masks that reflect the blooming of flowers in spring to represent the reinvigoration of life after a long winter. As flowers of hope bloom from the VANIKA design Masks, Kiraly pays tribute to healthcare workers worldwide, fighting the COVID-19 pandemic.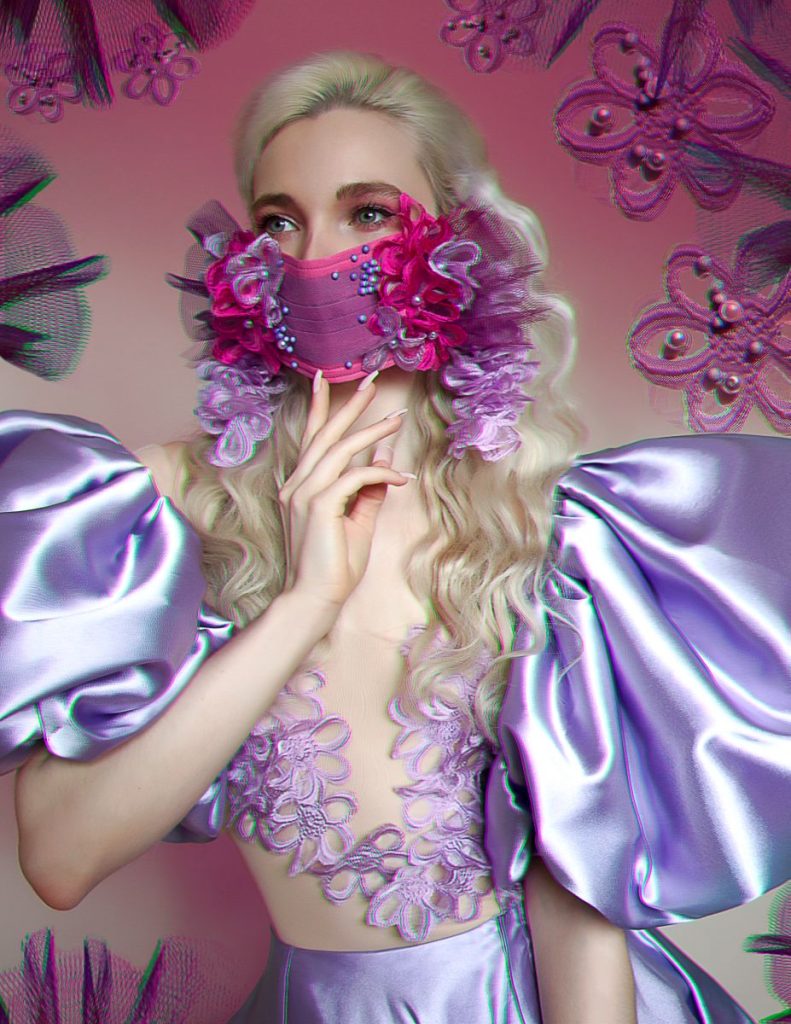 Biography- Vanessa Kiraly:
Vanessa Kiraly is a long-time contributor to the Toronto Fashion Industry. She started working as a model at the age of 13 and walked in her first fashion week (Fashion Art Toronto) at the age of 15. Since then, she has developed her talents as a fashion designer, photograph editor, creative director, fashion event coordinator, and photographer. To date, she's had over 100 fashion magazine publications. Vanessa graduated from the University of Toronto with a degree in Science and is attending law school in the fall. Although she is furthering her career on a different path, she hopes to continue contributing to the fashion industry as a lawyer.
Background on VANIKA Design:
VANIKA by Vanessa Kiraly is both a ready to wear and artistic label. The label produces collections that showcase a story or theme throughout. Vanessa feels that putting on a show for the audience and guiding the viewer through her vision/fantasy is crucial for showcasing a collection. Vanessa Kiraly started designing at the age of 15 and showcased her first collection for Fashion Art Toronto's 2014 edition. She is the youngest designer ever to showcase a collection at the event. Vanessa has continued to produce collections under her label for Startup Fashion Week, International Modest Design Festival, Fashion Art Toronto, and many more. Kiraly showcased her SS2020 collection recently, entitled "BLOOM" at International Fashion Encounter's 10th edition show in early March 2020.
Tell us about the mask that you have designed. What is the style/collection of masks called?
My series of redesigned hospital masks serve as a tribute to healthcare workers worldwide fighting the COVID-19 pandemic, hence the use of real hospital masks. The masks were made to complement the pieces from my SS2020 "BLOOM." The idea came from seeing how the abundance of scrap fabric I had left from my collection would cater well to creating these masks. I started by painting the masks, cutting out the tulles and individual fabric flowers, and gathered together to create different shapes. Bejewelled with pearls, sequins and gemstones, each mask was paired with an outfit from my collection–which made it easy to design.
The inspiration behind the design:
The inspiration for the masks complements the vision for the designs from the BLOOM collection. It features spring colours and fabrics (lilacs, light greens, floral fabrics and floral motifs). I wanted the collection and masks to reflect the blooming of flowers in spring, and how this represents the reinvigoration of life after a long winter. Symbolically, I hope that Canada will be able to "bloom" once more and that life will return to normal.
What is the process that went towards the photoshoot?
To respect social distancing laws, I took turns with my significant other (who I've been quarantining with) in photographing each other in the masks. Since these masks are a tribute to healthcare workers, we found it fitting for him to wear his white coat for the photographs. The editorial was shot at my family's cottage up north. I guess it goes to show that you can do wonders with a team of two! I did my hair and makeup and changed into the outfits. We photographed them on a white wall indoors in natural lighting and then outdoors in my garden. After the shoot was done, I retouched the pictures.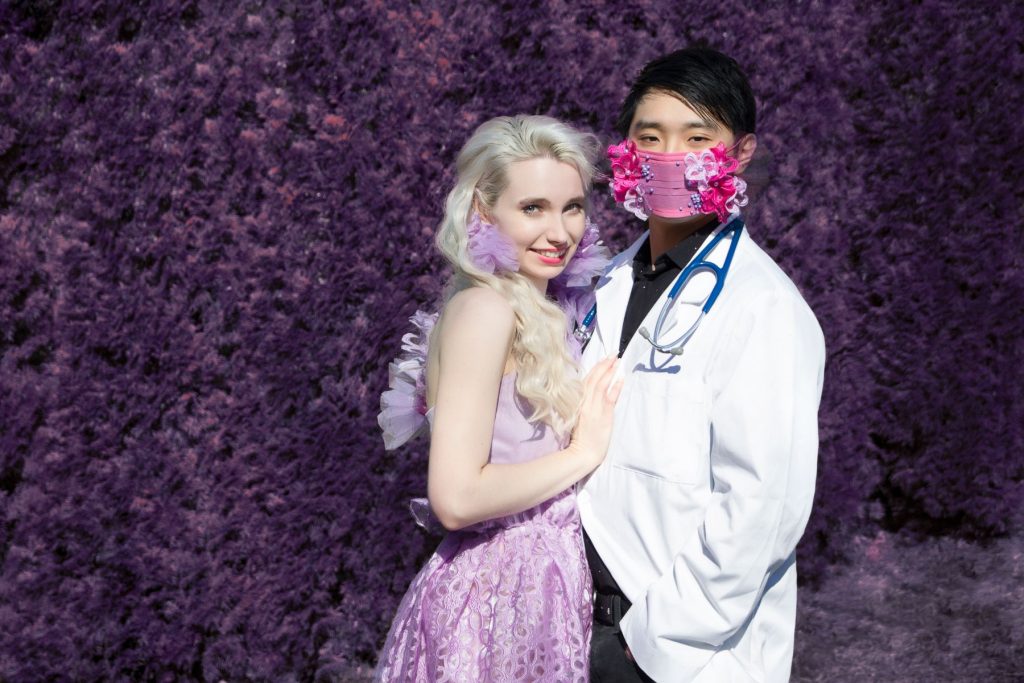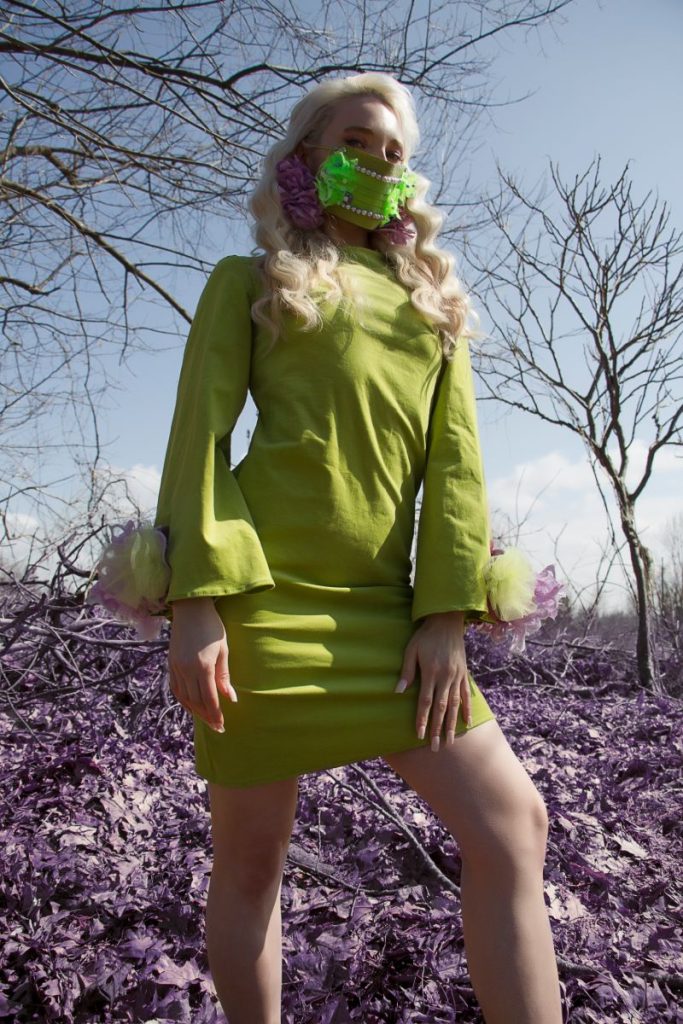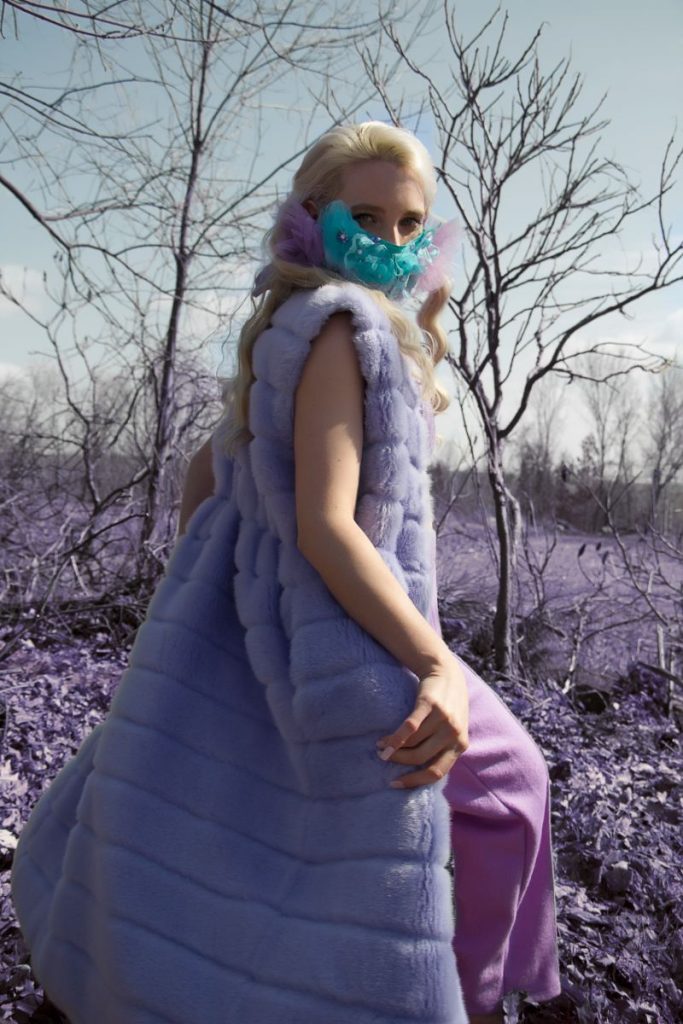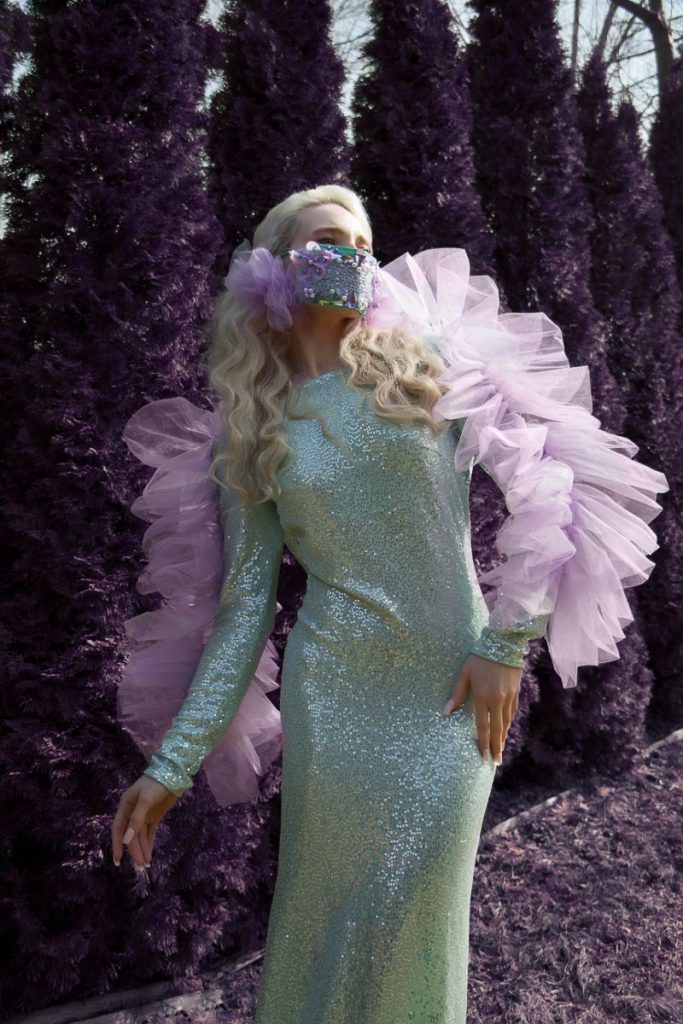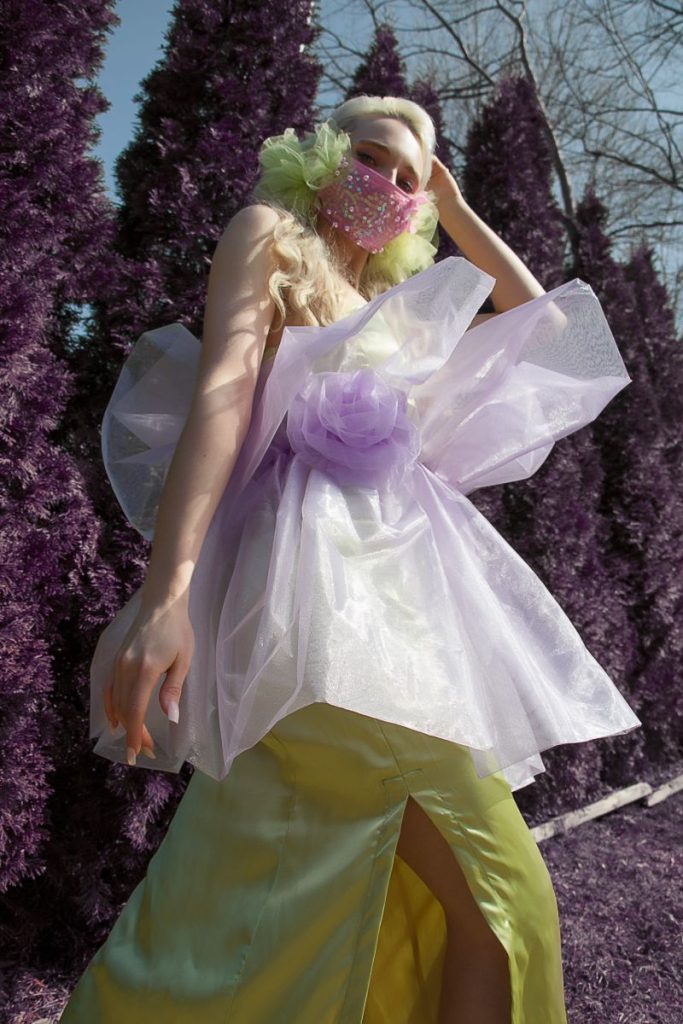 -Where are you spending quarantine?
I am fortunate enough to be quarantined in a cottage in the Midland area, which is one and a half hours north of Toronto.
-What is your current state of mind?
Healthy and happy! Quarantine has given me the chance to spend time with my significant other and work on hobbies and fitness in a way that I have not been able to before. It's like the vacation that no one wanted, but everyone had to take.
-What do you fear the most?
Life and school not being able to return to normal for years and not being able to travel.
-How do you stay creative during this time?
Painting! It doesn't take much to create high-quality art. Acrylic paints and canvases from any dollar store work just fine.
-What are you doing to stay positive and motivated?
Learning how to cook. Drilling LSAT questions to keep my brain sharp for school. Painting. Playing video games and watching shows I never had the time for before.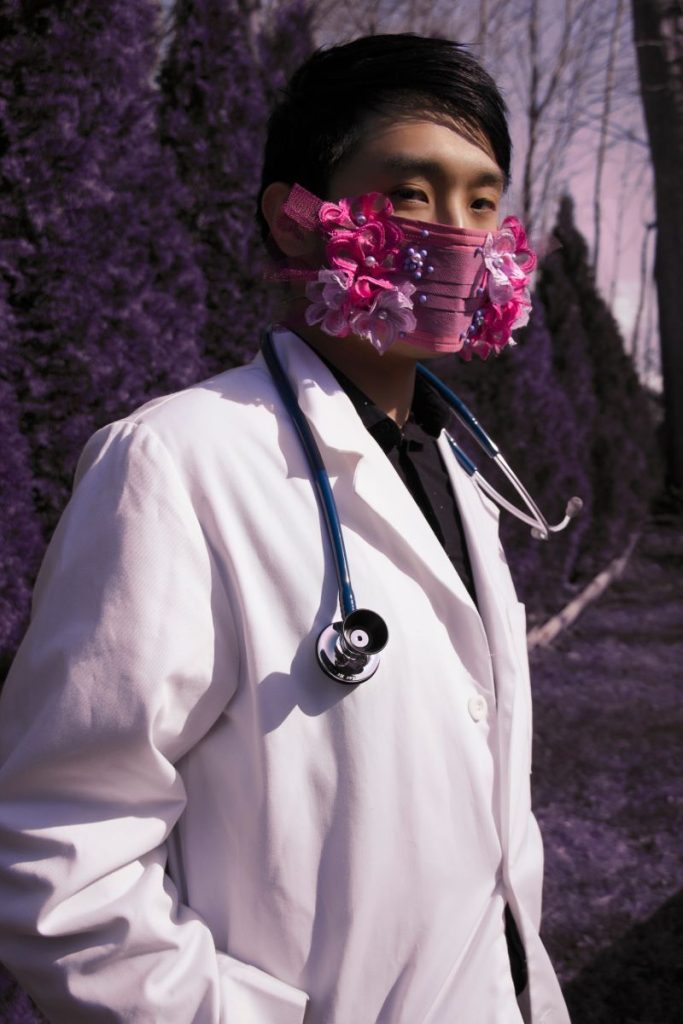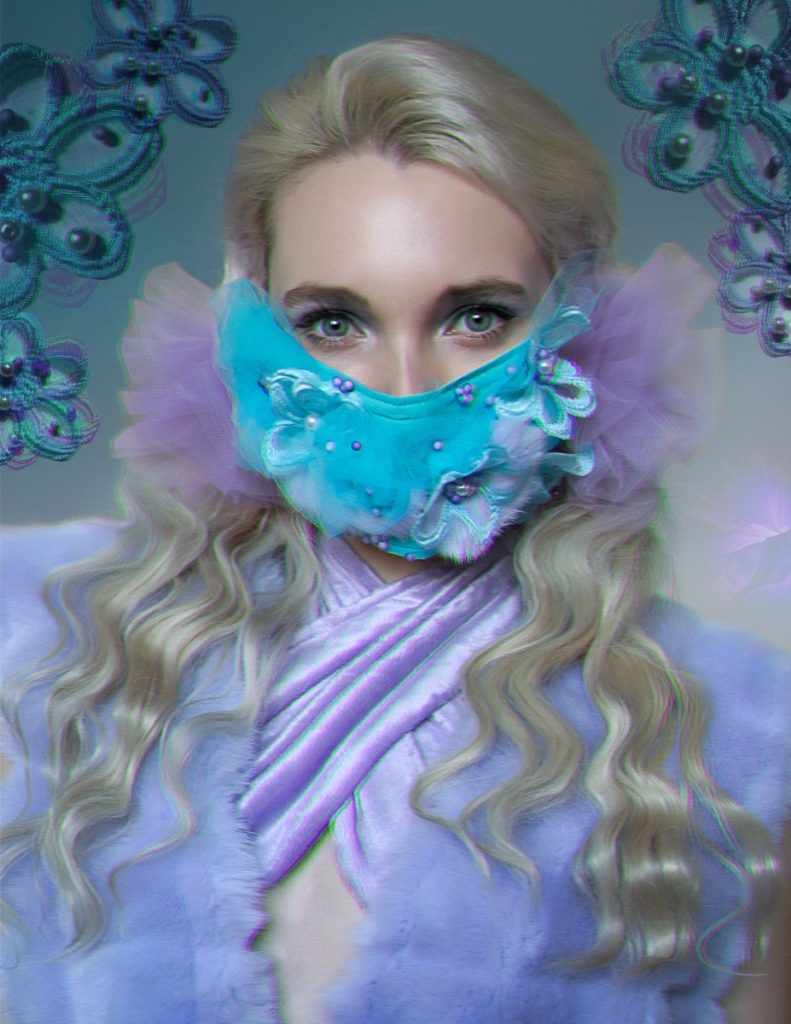 -How are you staying "social"?
There is a COVID concert run by my neighbour/musician Dylan Lock (Dylan Lock on Facebook). He hosts outdoor concerts every Saturday and has raised close to $10,000 for charity via Livestream. Other than that, I do Facebook messenger chats with my family, friends, and fashion industry contacts.
-Are you living in your PJs, or taking the time to get dressed up?
I prefer to get dressed; a clean change of clothes can work wonders for your productivity.
-What impact is the virus having, or already have on the design and fashion sectors?
We may see more digital fashion events and fashion weeks in the future. Even pre-virus, new and independent designers were having difficulty keeping up with fast fashion competitors and afford runway productions every season. The fashion industries worldwide and the Canadian fashion industry have realized the need to reconsider the traditional fashion week model's value.
Moreover, fashion retail is going to change drastically, at least for the next few years. Challenges of maintaining sales that comply with social distancing laws will disrupt the fashion businesses–reduced number of traffic in stores, fashion drive-throughs, scheduling fitting appointments, sanitizing garments after fittings, to name a few.
-What's the biggest challenge?
Not being able to travel anywhere or go to recreational places.
-What do you miss the most?
Shopping with friends, going to arcades and amusement parks.
-What is the first thing you will do after this quarantine?
I would love to take a vacation to someplace warm.